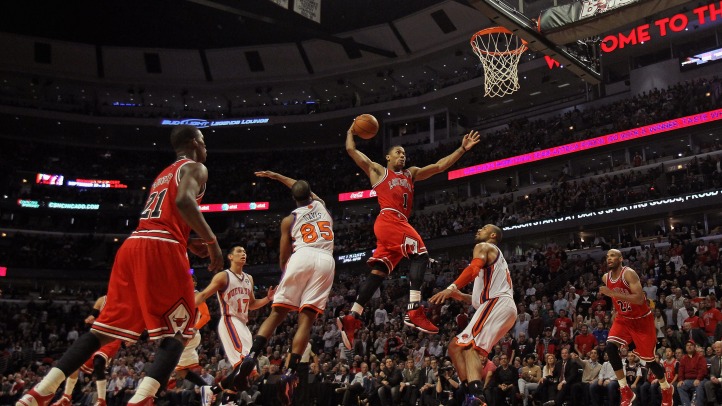 In the past week, we've seen several updates on the health of Derrick Rose. From him traveling with the team through Florida last Wednesday and Friday to now, going through "predictable contact" in practice with the team.
And while all of this is a sign for increased optimism that we'll see No. 1 on the court again in the very near future, the only question remaining – and the one that no one has seemed to ask – is can he dunk?
We know he can sprint around the track. We know he can shoot jump shots. But can he still attack the rim and finish with the ferocious dunks that made him one of the most spectacular superstars in the NBA? Rose's game has always been based on his speed, quickness and explosion to the rim, and when he tore his ACL, the fear was he could possibly lose one or more of those attributes.
While the team is still very tight-lipped on his progress and he hasn't been cleared for full-contact practices yet, Rose being able to dunk the ball again would be a sure sign that he's made a near complete recovery from his injury.
Of course, the team has consistently avoided going into specifics on the health of their superstar, stating only that he's "right on schedule," which is good, but knowing with certainty that he's back to being his explosive and exciting self would be so much better.
Follow "Outside Shot" on Twitter (
@Outside_Shot
) for more Bulls news and information.