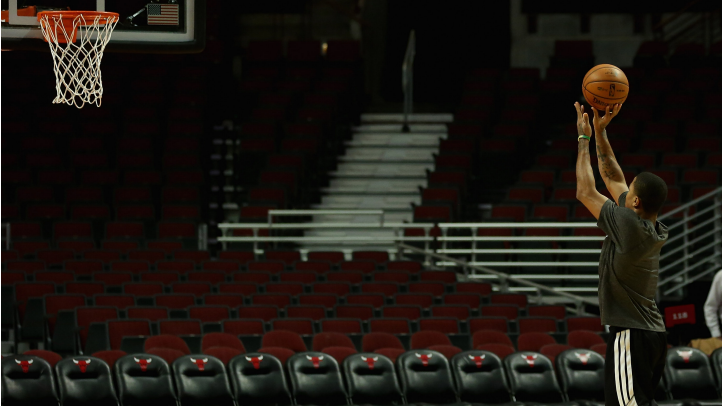 Derrick Rose addressed the media after the Bulls held a shootaround Thursday morning at the Berto Center. This, of course, is a pretty big deal because D. Rose hasn't addressed the media after a shootaround in a very long time.
You don't have to guess what kinds of question the point guard was asked by reporters. Everyone wants to know when he'll be back, but the superstar was no closer to giving an actual date than he's been on the rare occasions he's given interviews this season.
"It can be tomorrow and I feel like I can play the next game," Rose said. "Nobody knows but God."
However, the former MVP wants people to know that while he wants to take the floor again, he is choosing to be cautious in his approach.
"Bad," was his response when asked how anxious he is to play again. But he knows that day will come and he doesn't feel rushed at all to get back on the court.
"I'm only 24-years-old. I got the whole future in front of me. I'm just trying to take my time," he explained. "When I got my teammates behind me and they see how hard I'm pushing in practice and I'm seeing how hard they're fighting for me on the court, it makes me want to go harder. It makes me want to be out there more, too. But you have to look at the big picture."
And the big picture is Rose still doesn't feel he's at the 110 percent mark – physically and mentally – he's said he needs to be before deciding to play again.
"You warm up a little bit, be loose, then activity picks up and it gets back sore," he said. "It's going through that. I'm just getting used to my activity picked up a little bit. Just getting used to running, playing 5-on-5, doing everything I used to do.
"I'm way stronger. Just seeing how I'm going to put that in my game, I don't know yet. When we're playing 5-on-5, I'm trying to pick the right spots and really find out how strong I am. During 5-on-5, I'm very comfortable when I'm out there playing, If anything, it's much easier because I can shoot the ball much better. Sometimes, you kind of think a little bit when I'm out there. That's when I know I'll be ready to play, when I'm out there not thinking but reacting."
So for now, all Bulls fans can do is what they've been doing: remaining patient and optimistic that Derrick Rose will play this season. Just know that he's also doing his part in trying to come back.
""I'm just trying to stay focused; try not to listen to a lot of the people on the outside and just do my job. My job is to come in and push hard every day. My trainers have been doing a great job making sure I'm taking care of that. Just trying to get out there as quickly as possible."
Follow Outside Shot on Twitter (@Outside_Shot) for more Bulls news and information.