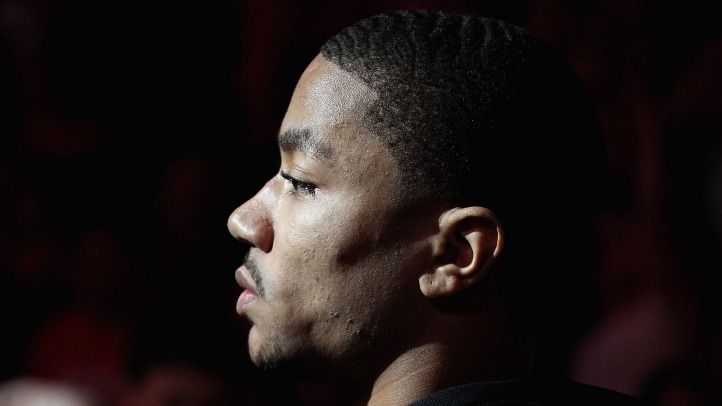 The Chicago Bulls head into Oakland to face the Golden State Warriors on Friday night, fresh off a 42-point beat-down at the hands of the Sacramento Kings. The way the Bulls disappointingly performed on Wednesday night raised many eyebrows and opened the door for many questions.
The biggest of which is this: Are the Bulls just plain worn out from all the Derrick Rose talk? Another question: Was their play against the Kings indicative of something behind the scenes that we don't know?
The Bulls haven't looked as bad as they did against Sacramento since Tom Thibodeau took over as head coach. Interestingly enough, the game came on the heels of D. Rose's infamous burning hamstring quote and his subsequent assertion and reiteration that he's not mentally in a place where he feels comfortable enough to play on his surgically repaired left knee.
Since February, any and all talk concerning the Bulls has been more about Derrick Rose than the team itself. How close is he? When do you think he'll be back? Is he dunking yet? How has he looked in practice? It's become an endless news cycle that has sparked many a debate, opinions being offered and even slander of the best basketball player this city has seen since the departure of Michael Jordan.
And although no one affiliated with the team has come out and said so publicly, you'd have to think that by now the Rose saga has officially become a distraction and is affecting the team's play on the court. Yes, you can't overlook the number of key guys who are injured (Kirk Hinrich, Taj Gibson, Rip Hamilton) as one reason for many of the Bulls' struggles of late, but it seems the only injury anyone cares about is the one that happened just over 10 months ago.
Chicago has 18 games left on the regular season schedule, and they lost 11 of their last 19 contests. Five of their next six outings coming against playoff teams in both the Eastern and Western conferences and that isn't a very good sign considering what we've seen from the team at this point in the season.
Tom Thibodeau has vowed to light a fire under his squad and get them back on track, but from what we've seen from the Bulls since Feb. 1, it makes you wonder if the constant strain of having to play shorthanded down the stretch is taking its toll, or if the "inspired" basketball they seemed to be playing has gone away because privately they know that Derrick won't be playing basketball this season.
If it is the latter, the team should come out and make a definitive statement on D. Rose's prospects of playing this season instead of creating optimism that run contrary to the honest assessments that Derrick has given of his health to this point.
Follow Outside Shot on Twitter (@Outside_Shot) for more Bulls news and information