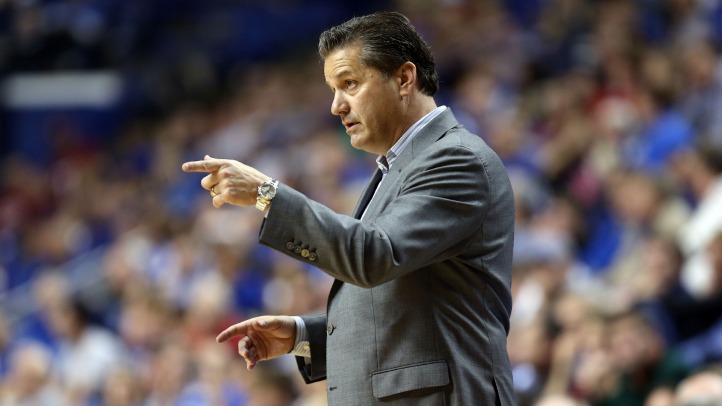 One of the major questions swirling around the Derrick Rose saga was why the superstar didn't just shut down all speculation and announce his intention to forego the season and instead, concentrate on his rehab. Fans felt almost jilted at the way the door was constantly kept open with no sign of D. Rose ever walking through it.
Well now, a former Rose coach may have shed some light on why a statement was never made.
John Calipari, current University of Kentucky men's basketball coach who coached Rose at Memphis, appeared on a Cleveland radio show to discuss – and defend – Rose's decision not to play while shedding light on what was going on inside the organization between Rose and management.
"I've talked to Chicago Bulls management, I know all those guys… and you know what? They're fine. They didn't want him to go back," said Calipari according to a recent ProBasketballTalk report. "As a matter of fact, they wanted to announce he wasn't coming back, but Derrick didn't want to do it because he thought, 'If there is any chance for me to come back…'"
Many people, including Rose's teammates, management and even coaching legend Phil Jackson have all defended Rose and his decision, but even those people's opinions weren't good enough for the fan base who felt that if he could work out pre-game, then he was healthy enough to play in a real game, despite the two activities not being at all similar.
"At the end of the day after they got going, and they were going to play Miami in the second (round), what good would it have done other than he could have got hurt? Tell me what good it could have done," asked Calipari. "Knowing him the way he is, knowing he is a great kid and somebody who probably in the worst way wanted to play, but just was so tentative he wasn't right. He didn't trust it yet and you gotta respect that."
Normal 0 false false false EN-US JA X-NONE /* Style Definitions */ table.MsoNormalTable {mso-style-name:"Table Normal"; mso-tstyle-rowband-size:0; mso-tstyle-colband-size:0; mso-style-noshow:yes; mso-style-priority:99; mso-style-parent:""; mso-padding-alt:0in 5.4pt 0in 5.4pt; mso-para-margin:0in; mso-para-margin-bottom:.0001pt; mso-pagination:widow-orphan; font-size:12.0pt; font-family:Cambria; mso-ascii-font-family:Cambria; mso-ascii-theme-font:minor-latin; mso-hansi-font-family:Cambria; mso-hansi-theme-font:minor-latin;} Follow Outside Shot on Twitter (@Outside_Shot) for more Bulls news and information