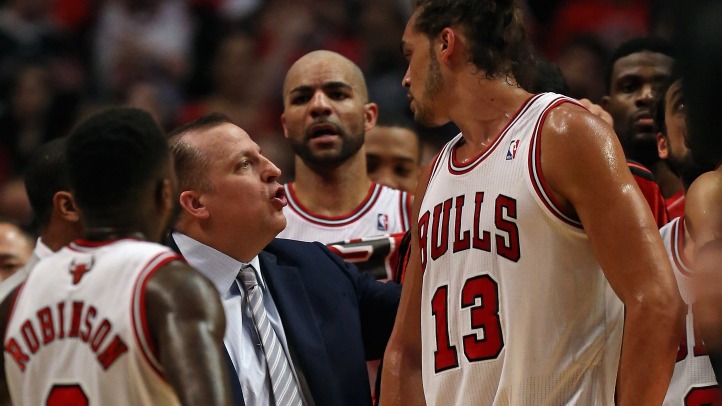 While many in the basketball world weren't pleased with Derrick Rose's decision to skip the season due to rehab on his torn knee ligament, the Chicago Bulls' coaches and players stood behind their superstar. On the outside, the chatter regarding Rose was largely negative, but on the inside of the organization, there was nothing but support.
"He heeded [Chairman Jerry Reinsdorf's] advice from the beginning to not rush it and make sure you're completely comfortable before you get out there. It's too important of a decision for him to rush. Until he's completely comfortable, we don't want him out there," Tom Thibdeau told CSN Chicago. "We knew [missing the season] was a possibility and that's fine. You deal with it as best you can. We just want him to continue to work the way he has been working and we want him completely healthy."
Of course, sitting out the year wasn't fine for people who wanted Rose to suit up and play for their immediate gratification as opposed to thinking long-term. Everyone became doctors overnight and declared Rose fit to play because he'd been medically cleared, even though he didn't feel he was ready.
"It was hard. You definitely, as a player, you know you want him to come back, but at the same time, you understand you've got to look at the big picture and I'm really proud of him, actually," said Joakim Noah, Rose's staunchest and most public supporter. "I think he's dealt with it great, with all the pressure coming from a lot of people. I think the way he handled it, it was great. I don't think a lot of people could have handled it like that. But if I was his big brother or I was a family member or something, then you look at it from that perspective, he did the right thing."
For many, Derrick Rose doing the right thing meant getting on the court with his teammates and playing. But for those who saw him working hard day in and day out, doing the right thing was just what D. Rose did: take his time.
"He has to keep working. I think he's in a pretty good place mentally. With him, if we were going to make a mistake, we were going to make a mistake on the side of caution, so we feel good about where he is," Thibodeau explained. "He has the whole summer to build more confidence and that's the important thing, and as we said when he first had the surgery, we weren't going to rush him back and we held to that, and I think it was the smart decision."