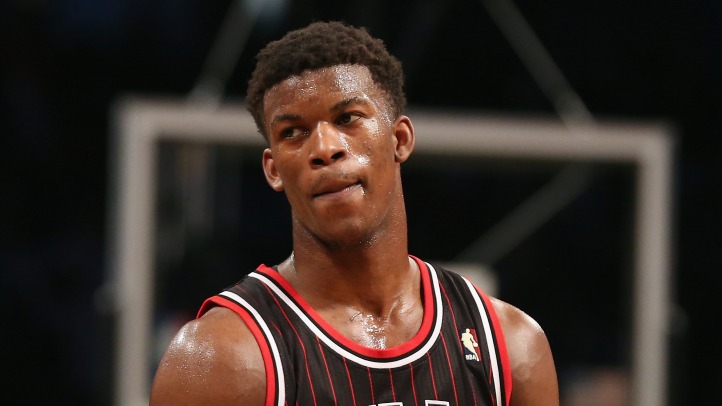 Many people felt Derrick Rose had quit on his teammates by his decision not to take the court this season, but behind the scenes, Rose was still a central and integral part of the team, even if he didn't suit up in his uniform.
Just ask Jimmy Butler.
Butler's emergence was one of the team's biggest surprises this year. It's hard to imagine that he's only just completed his second season in the NBA and he's going to continue to make even bigger strides and improvements in his game on both sides of the ball.
And the Marquette alum credits Rose as being the biggest influence on what was essentially his breakout season in the league, according to an ESPN Chicago report.
"He was a big part of the success I had later in the year because he was constantly telling me I've seen you do this, I've seen you make those shots, you take those shots," Butler said on Wednesday's Waddle & Silvy Show. "Every shot you take, think it's going in, think you're going to make it. When you have somebody like that on your side who is constantly building you up it makes it easier to go out and perform and do well."
Not only did D. Rose believe in him, but Butler began to gain confidence and believe in himself. After appearing in just 42 games as rookie, he appeared in all 82 of the Bulls regular season games in their 2012-13 campaign, raising his numbers in every statistical category in the process.
Jimmy Butler can be as good (or great) as he wants to be, as long as he continues to put in the work. That, he says, won't be a problem.
"If I never stop working and keep doing what I've been doing to get me to this point, I feel like with the work ethic that I do have, I really would like to be great and I won't stop until I am great for this team and this city," Butler said. "But it makes it real easy to have guys, a coaching staff and a whole city that's supporting you no matter what. I've got a lot of good guys on my side.
Normal 0 false false false EN-US JA X-NONE /* Style Definitions */ table.MsoNormalTable {mso-style-name:"Table Normal"; mso-tstyle-rowband-size:0; mso-tstyle-colband-size:0; mso-style-noshow:yes; mso-style-priority:99; mso-style-parent:""; mso-padding-alt:0in 5.4pt 0in 5.4pt; mso-para-margin:0in; mso-para-margin-bottom:.0001pt; mso-pagination:widow-orphan; font-size:12.0pt; font-family:Cambria; mso-ascii-font-family:Cambria; mso-ascii-theme-font:minor-latin; mso-hansi-font-family:Cambria; mso-hansi-theme-font:minor-latin;} Follow Outside Shot on Twitter (@Outside_Shot) for more Bulls news and information