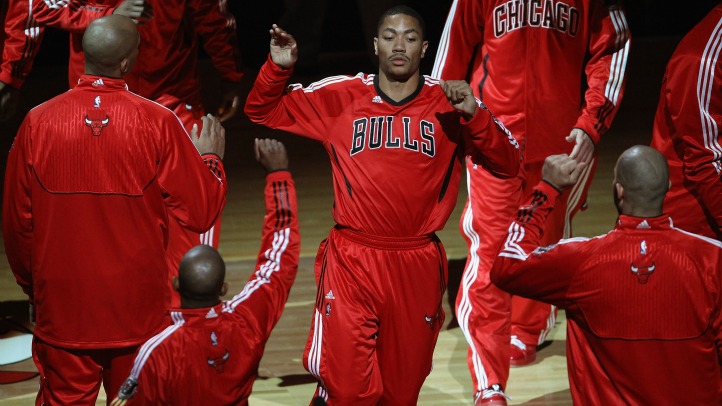 Prior to the Chicago Bulls tip-off against the Los Angeles Lakers Monday night, Tom Thibodeau divulged some exciting news on the status of Derrick Rose.

Rose has been practicing with the team for a few weeks, but it's been of the non-contact variety. He won't be cleared to play again until he's able to go through full contact practices and, according to Thibs, that could happen soon ... real soon.
"Very close," said Thibodeau when asked how close Rose is to being cleared for full-contact practices. When asked if that clearance could happen this week, Thibs slyly smiled and said, "It could."
Although the coach didn't speak in definitive terms, it's the first real indication from him that his superstar is on the verge of reaching the most significant milestone in his recovery from knee surgery. Still, Thibodeau was very careful not to create any false expectations and continues to preach patience with Rose's rehab and eventual comeback.
"He has to go through [full-contact practices] for an extended amount of time. It's not going to be one or two days of contact and then he's going to be out there. That's not going to happen," Thibodeau explained.
"Everyone has to be patient. He's doing his part and showing great patience, so everybody else has to. He's going to continue to focus on the rehab and whenever he's ready, whenever it is, that's when he comes back."
Rose has been working out with the team both during practices and before games, and for anyone who's had a chance to even catch a glimpse of these sessions can see how hard he's pushing himself and how hard he's working. Thibodeau said he's been pleased with what he's seen so far from his star from a physical aspect but stated there's no rush to hurry him back.
"He's done great [in his rehab], but like I said, everyone just be patient and when he's ready, he'll go. ... I like our team. Maybe you guys [the media] don't believe me, but I believe we have more than enough to win. I think if we do the right things we're capable of beating anyone, anywhere. We have to continue to do that and I still think we have a lot of room for growth.
"We went through half a season last year without Derrick, but the big thing is you begin with the end in mind. For us, we want to be playing great basketball at the end of the season and we want to be as healthy as possible. So to that end, with Derrick it's just being patient, let him handle the rehab and continue to listen to what our doctors have to say, and then we go from there."
Follow "Outside Shot" on Twitter (@Outside_Shot) for more Bulls news and information.