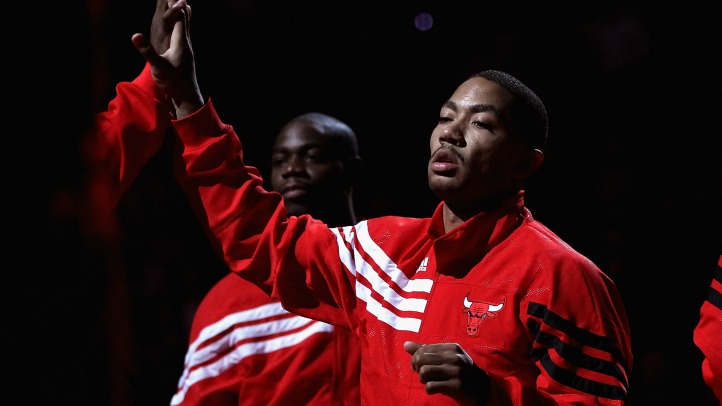 As we near the return of Derrick Rose to the NBA court once again, status updates on where he is in his rehab and how close he is to playing will become more and more frequent.

From traveling with the team – D. Rose made his second straight road trip, accompanying the Bulls to New York where they'll face the Knicks on Friday night – to taking "predictable contact" in practice and even dunking, you don't have to look very hard to find out how the former MVP is doing.
But the most interesting update of all came from the man himself, sort of.
Jimmy Butler, who on Wednesday confirmed that Rose was indeed
dunking the basketball again
, gave us all a glimpse into what Derrick's mindset is, which somehow seemed to get overlooked in the media.
"You know that he wants to be out there with us and you know that he wants to be out there competing, and helping us get these wins," said Butler to CSN Chicago. "You ask him about it, and he's like, 'Man, I'm so ready.'"
In your mind, hearing Derrick say those four words in his own voice, almost gives you a chill. No matter what the team says about where he is in rehab, that statement lets you know where D. Rose feels he is, and that can't be understated.
Of course the team continues to preach patience, which is certainly sensible, but what other choice do we have? Besides, it seems like it's been much longer than eight months since we last saw D. Rose wearing his No. 1 jersey in an NBA basketball game because so much has happened in that time that makes it feel that way.
From tearing his ACL in late April, to surgery mid-May, watching the Bulls dismantle the roster in July, hearing D. Rose speak for the first time in August, watching him get emotional at his sneaker unveiling in September, the birth of his son in October, "The Return" commercials that got everyone excited, the disappointment of the Bulls' up-and-down season thus far, the positive videos of him sprinting and taking jumpshots, to where we are now in January 2013 with him practicing and going on the road, there have been waves of emotions and a series of highs and lows for Bulls fans since last spring.
So yes, we're still being patient, but to hear that Derrick Rose is saying he's ready to get back on the court is a great sign because now we know one thing with certainty: everybody in Chicago is on the same page. He's ready to come back and we're ready for him to come back, too.
Follow "Outside Shot" on Twitter (
@Outside_Shot
) for more Bulls news and information.