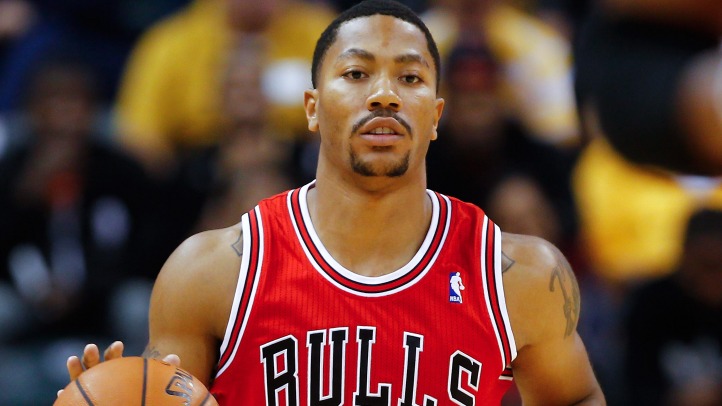 After a 17-month layoff, Derrick Rose passed his first big test against the Bulls preseason showdown with the Indiana Pacers on Saturday night: get through his first NBA game without getting hurt.
But the second test would come the following day, and that was to see how his knee felt after playing in a real contest at game speed. So far, so good for the former MVP.
"[The knee] feels great," Rose said to ESPN Chicago before Sunday's practice in St. Louis where the Bulls will take on the Memphis Grizzlies Monday night. "I'm not sore or anything. My leg's good. Just trying to stay focused and trying to take it one day at a time."
"No soreness at all," Rose continued. "After the game it felt like I hadn't even played, so I guess that's a good sign."
Rose logged 20 minutes against the Pacers on Saturday and scored 13 points, his last coming on a breakaway dunk after stealing the ball from Pacers superstar Paul George. Aside from some rust – which was to be expected after so much time away from the game – D. Rose looked like his old self.
"I thought he played well [Saturday] and we've been seeing it in practice so it was good to see it in a game. I thought he was real aggressive. As the game went on he got stronger and stronger," remarked Tom Thibodeau. "The big thing was looking at his wind. He felt really good. He wanted to play more, which is good. We're just going to take it day by day, and if he needs some rest we'll give him more rest. It's just step by step, don't skip and steps. That's all we want him to do."

Rose Returns with Sky High Confidence