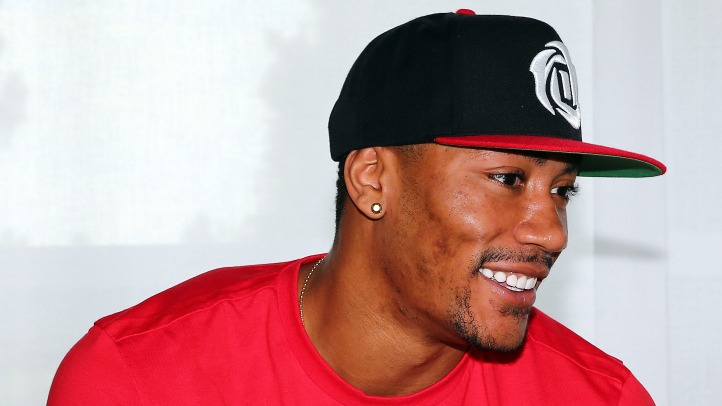 In high school Derrick Rose wore No. 25. In college at Memphis, he wore No. 23. And now that he's with the Chicago Bulls, he wears No. 1.
On the surface, it seems he picked that number because he was the first overall pick in the 2008 NBA Draft, but that's not quite the case apparently. During his European D. Rose Tour, the Chicago native made a stop in Serbia and made an appearance on the "Ami G Show," which is strangely similar to the comedic "Ali G Show" that used to air on HBO.
Rose was asked about the significance of his jersey number and he gave a very interesting response, one that fans may not have even been aware of.
"When I was playing for my club team (AAU) back in Chicago, my number was No. 1, but when I played for my high school, my number was 25," explained Rose. "But it's like an alter ego type thing. When I played for my club, I was more aggressive – I was more dominant. But when I played for my high school, I was more passive, getting my teammates involved.
"When I made it to the league, I kind of wanted that alter ego to be who I wanted to be throughout the whole league, and that's why I chose No. 1."
Normal 0 false false false EN-US JA X-NONE /* Style Definitions */ table.MsoNormalTable {mso-style-name:"Table Normal"; mso-tstyle-rowband-size:0; mso-tstyle-colband-size:0; mso-style-noshow:yes; mso-style-priority:99; mso-style-parent:""; mso-padding-alt:0in 5.4pt 0in 5.4pt; mso-para-margin:0in; mso-para-margin-bottom:.0001pt; mso-pagination:widow-orphan; font-size:12.0pt; font-family:Cambria; mso-ascii-font-family:Cambria; mso-ascii-theme-font:minor-latin; mso-hansi-font-family:Cambria; mso-hansi-theme-font:minor-latin;} Follow Outside Shot on Twitter (@Outside_Shot) for more Bulls news and information