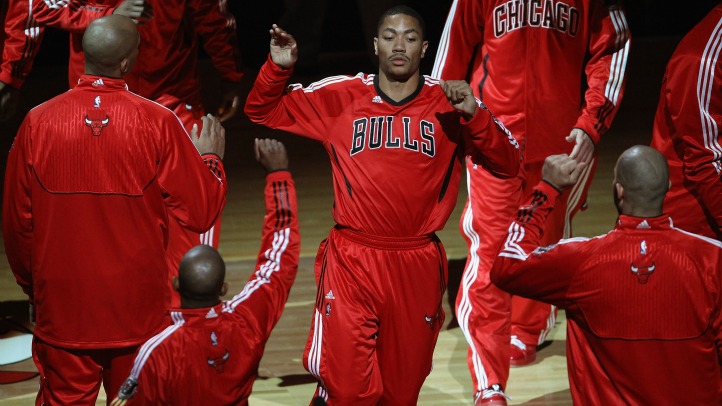 Derrick Rose returning to the NBA is making the 2013-14 season one of the most anticipated in years. Many people want to know if D. Rose will even be remotely close to the MVP form he showed and if a healthy Derrick Rose can finally lead the Chicago Bulls past LeBron James and the Miami Heat.
In discussing MVP form, ESPN Forecast believes Derrick Rose will be in that discussion next year as they picked him to finish fourth in voting behind LeBron James, Kevin Durant and Chris Paul, but ahead of James Harden who checked in at No. 5. That's not bad for a guy who will have spent 18 months away from the game by the time he returns.
During his MVP season of 2010-11, D. Rose averaged 25 points, 7.7 assists and 4.1 rebounds per game.
But what can be reasonably expected from a player who has missed an entire season coming back from an ACL tear, and is it even possible that Derrick Rose will actually be in the MVP conversation? Well, the only player even comparable to D. Rose with the same injury is Baron Davis who tore his ACL while a freshman in college at UCLA.
Davis still went on to become the No. 3 overall pick in the 1999 NBA Draft and for a decade was one of the best point guards in the league. However, the primary difference between Davis and Rose is their passion and commitment to the game. Many felt that Davis' off-court interests and sketchy work ethic kept him from reaching his full potential, and we certainly know that doesn't apply to Derrick Rose.
So can D. Rose be a viable MVP candidate? If his motivation stays true to form to prove all those who doubted him and were angered by his decision to sit out the Bulls entire 2012-13 campaign, and if he can lead the Bulls back to the top of the Central Division and the Eastern Conference, then yes, Derrick Rose can and will definitely be in the MVP race next season.