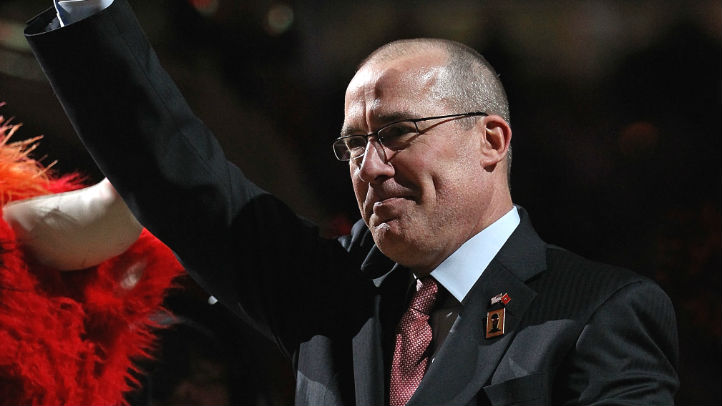 The Chicago Bulls season ended a little more than two weeks ago, but Derrick Rose continues to be a topic of conversation. The former MVP took a lot of heat for not playing this season, despite unwavering support from his teammates and the organization itself.
On Sunday, John Paxson, the Bulls executive vice president of basketball operations, took to the sports talk radio airwaves to once again show support for the face of the franchise and discussed how social media played a very large part of the negative opinion that seemed to stick to Rose as the season progressed to Chicago's eventual second-round playoff loss to the Miami Heat.
"It's the way of the world now, the social media, everything that goes on," Paxson said, according to a Chicago Tribune report. "Everybody wants to point a finger and blame and accuse and that kind of stuff. And the reality is, Derrick and us, we were all on the same page from the beginning. If he was ready to play mentally and physically, he was going to play. It didn't happen this year.
"There's no question in my mind that the time he spent on his body this past year was the best thing he's ever done because I think he's learned that, to compete in an NBA season and absorb the physical contact that he does, what he's done during this rehab has benefitted him greatly. I think it's going to make him better and stronger."
Rose himself has made similar comments about his eventual return to the court and how the time off will make him a better player, but fans anxious for a heroic comeback were left disappointed and reacted negatively. Add in chatter on social media websites like Facebook and Twitter and all of a sudden you have negativity that instantly goes viral.
But Paxson – and the rest of the Bulls – understands that ACL rehab is a process that requires tons of patience, patience that seemed to wear thin with fans this season. Nevertheless, Derrick Rose will be a smarter basketball player both on the court and off with regard to taking care of himself, ensuring his longevity as being the cornerstone of the franchise for many years to come.
"So many of these young kids come into our league and they're so gifted athletically, they really don't have to pay attention to their bodies if they choose not to," Paxson said. "They've always gotten by being faster, stronger, quicker, whatever it is. Well, this injury for Derrick has made him realize that he's not invincible, first and foremost. He has to take care of his body."
Normal 0 false false false EN-US JA X-NONE /* Style Definitions */ table.MsoNormalTable {mso-style-name:"Table Normal"; mso-tstyle-rowband-size:0; mso-tstyle-colband-size:0; mso-style-noshow:yes; mso-style-priority:99; mso-style-parent:""; mso-padding-alt:0in 5.4pt 0in 5.4pt; mso-para-margin:0in; mso-para-margin-bottom:.0001pt; mso-pagination:widow-orphan; font-size:12.0pt; font-family:Cambria; mso-ascii-font-family:Cambria; mso-ascii-theme-font:minor-latin; mso-hansi-font-family:Cambria; mso-hansi-theme-font:minor-latin;} Follow Outside Shot on Twitter (@Outside_Shot) for more Bulls news and information