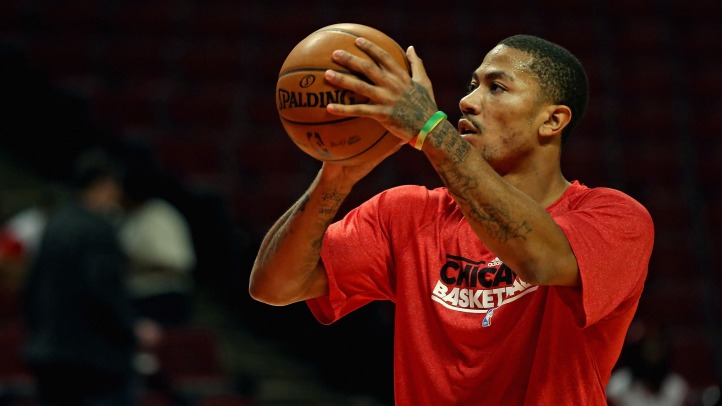 Although hope seems to have begun to fade in the Windy City, Derrick Rose is still optimistic that he could return to the court this season. He said so before the Bulls' shootaround in Detroit on Sunday.
"I'm going to keep it open," Rose told CSN Chicago. "I'm just trying to get better. I'm just trying to help my teammates, give them confidence to go out there and play hard, and just be a great teammate for right now. I will play whenever I'm ready to play. Who knows when I'm going to be ready to, but for right now, all I can do is cheer on my teammates."
It must have been hard for Rose to cheer the lackluster effort in Sunday's 99-85 loss to the Pistons at the Palace at Auburn Hills, Joakim Noah's and Marco Belinelli's first game back since missing a number of games due to injury.
And while fans would rather see him doing more playing than cheering, Rose acknowledges how being on the sideline is going to help him become a better player.
"The game, I definitely think, is going to slow down for me," Rose explained. "Just watching the game enough, seeing all the coaches. It's been a lot of coaches that's moving or thinking about taking jobs other places, but they usually run the same system that they've been running the whole time that they're in the NBA."
"So looking at all their tendencies with the new teams that they're on and the teams that they've been coaching is definitely going to help me with the play calls when I come back, on the defensive end."
Rose also acknowledged the possibility of missing the season but feels it will benefit him more if he really does want to play at this point in the season.
"It gives me more time to work out if I don't play, but I think I've had enough time already, knowing that I haven't been playing in a long time," Rose said. "I'm just taking that time and getting my body together. It could definitely be big [to come back this season], but I'm going to come back whenever I'm ready."
Normal 0 false false false EN-US JA X-NONE /* Style Definitions */ table.MsoNormalTable {mso-style-name:"Table Normal"; mso-tstyle-rowband-size:0; mso-tstyle-colband-size:0; mso-style-noshow:yes; mso-style-priority:99; mso-style-parent:""; mso-padding-alt:0in 5.4pt 0in 5.4pt; mso-para-margin:0in; mso-para-margin-bottom:.0001pt; mso-pagination:widow-orphan; font-size:12.0pt; font-family:Cambria; mso-ascii-font-family:Cambria; mso-ascii-theme-font:minor-latin; mso-hansi-font-family:Cambria; mso-hansi-theme-font:minor-latin;} Follow Outside Shot on Twitter (@Outside_Shot) for more Bulls news and information