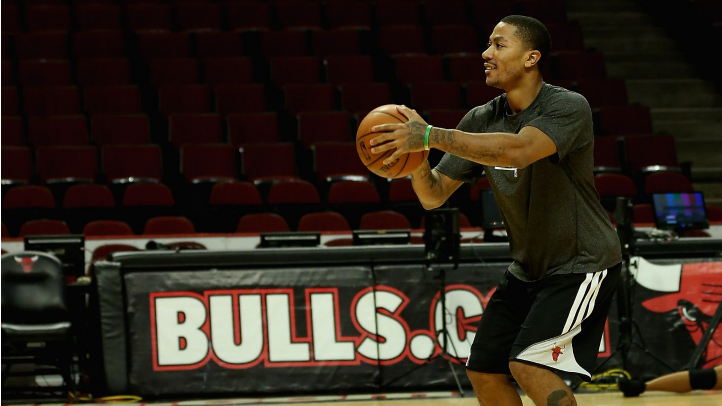 You might be asking yourself, how can you give a player a grade when he didn't play a single minute during the regular season and the playoffs? Well, we can't. Not really, anyway.
But just because he didn't suit up, doesn't mean we can't evaluate Derrick Rose on his season.
In 2012-13, Derrick Rose's biggest competition was himself. Instead of fighting through defenders on a nightly basis, he was in the gym fighting to get back on the court on a daily basis. And in the beginning, that was cool.
Fans were anxiously awaiting a miraculous comeback and stood behind the superstar 100 percent in his rehab and push to get himself healthy again. But as the weeks turned into months and those months turned into a new calendar year, fan patience began to wear thin and questions on when D. Rose would suit up again permeated the local news cycle and social media at large.
Then the infamous announcement came that doctors had cleared Rose to play again, yet he was still continuing to take his time in rehab, and that's when it all began to go downhill. With every Bulls game, whether they won or lost, fans slowly began to become irate that Rose was not out there with his teammates, and the once beloved hometown kid quickly became Public Enemy No. 1.
His physical and mental toughness were questioned, as was his ability to lead. His pregame workouts became an indictment and him sitting on the bench in a suit became the subject of countless memes.
From an organizational, team and player standpoint, things certainly could have been handled better. Fans were angry and felt like they were left hanging because there was never an "official" statement made on his playing status. And to the fans' credit, much of their negativity was rooted in the fact that they just wanted to see Derrick Rose play basketball again, which is understandable.
But at the end of the day, throughout all of the things that were said and stories that were written, Rose stayed above it all. He listened to his body – as an athlete should – not the outside chatter. He didn't succumb to the pressure and come back sooner than he was ready, and the support of his family, friends, teammates and the organization meant more to him than media and fan support.
Through it all, D. Rose stayed true to himself and he handled the negativity better than a large majority of athletes would have, while continuing to put in the necessary work to get back to his pre-injury level. All of these things are to be celebrated because when he comes back, he'll be a better player than he was before and people will wonder why they ever questioned Derrick Rose in the first place.
Grade: Incomplete
*Note: If we were grading Derrick Rose on how he handled all of the negativity thrown his way this season, then that would certainly be deserving of an A+ grade.
Normal 0 false false false EN-US JA X-NONE /* Style Definitions */ table.MsoNormalTable {mso-style-name:"Table Normal"; mso-tstyle-rowband-size:0; mso-tstyle-colband-size:0; mso-style-noshow:yes; mso-style-priority:99; mso-style-parent:""; mso-padding-alt:0in 5.4pt 0in 5.4pt; mso-para-margin:0in; mso-para-margin-bottom:.0001pt; mso-pagination:widow-orphan; font-size:12.0pt; font-family:Cambria; mso-ascii-font-family:Cambria; mso-ascii-theme-font:minor-latin; mso-hansi-font-family:Cambria; mso-hansi-theme-font:minor-latin;} Follow Outside Shot on Twitter (@Outside_Shot) for more Bulls news and information