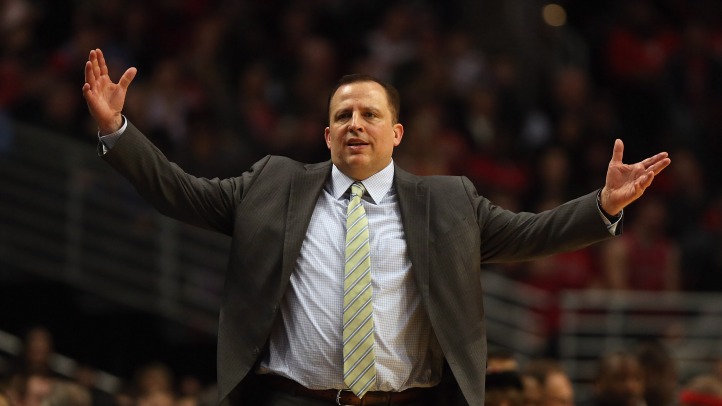 The Chicago Bulls gave it all they had Monday night against the Denver Nuggets and a controversial call – and non-call – ultimately made the difference in their 119-118 overtime loss to a Nuggets squad that has now notched 12 consecutive victories.
After forcing overtime, Joakim Noah's tip-in on a Marco Belinelli desperation shot that gave the Bulls the lead was later negated by the referees who called offensive basket interference on the play. Ironically, just two plays prior, Denver's Kosta Koufos committed a goaltending infraction of his own that was not called by the referees on the court, nor was it reviewed afterward like the Noah basket.
If there is a silver lining to such a tough loss, the Boston Celtics – who are in seventh place behind the Bulls – lost to the Miami Heat on Monday night, extending their winning streak to 23-straight. Boston and Chicago have identical 36-30 records and split their season series, 2-2.
The Good
You have to admire the way the Bulls played the Nuggets, especially when you consider they were already shorthanded with Kirk Hinrich, Rip Hamilton and Taj Gibson out, and Tom Thibodeau shortened his rotation, going only three-deep off the bench. Nate Robinson (34 points, seven assists) led the Bulls offensive attack as the diminutive guard made some big shots at key moments in the game. Jimmy Butler (15 points, seven rebounds, four assists) was also key for Chicago off the bench as he continues to elevate his game each and every night. Luol Deng (21 points, five rebounds), Carlos Boozer (14 points, nine rebounds), Joakim Noah (14 points, 12 rebounds, six assists) and Marco Belinelli (18 points, eight rebounds) all played hard and made key contributions at critical moments in the back-and-forth-affair. Chicago also shot the ball well from the field at 49 percent and from the free-throw line at 84 percent.
The Bad
The Bulls interior defense was nowhere to be found as it seems like the middle of the lane was wide open for the Nuggets all night. DePaul alum Wilson Chandler (35 points, nine rebounds, four assists) seemed to have no problem getting to the basket whenever he wanted and a majority of his points seemed to come on dunks and layups. The Nuggets outrebounded the Bulls 53-42 and scored 18 points off Chicago's 14 turnovers. Also, with the exception of Nate Robinson, the Bulls really struggled from behind the three-point line going 8-21 with Robinson accounting for six of those makes.
The Ugly
The Nuggets controlled the tempo and pushed the ball at will, outscoring the Bulls on the fast break in astonishing fashion, 30-8. Denver also dominated in the paint outscoring Chicago 68-50, and a staggering 71-17 in bench scoring.
Follow Outside Shot on Twitter (@Outside_Shot) for more Bulls news and information.