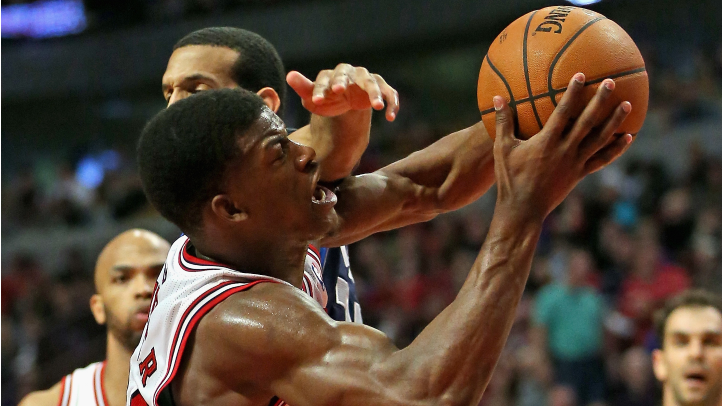 After a strong showing against the Brooklyn Nets on Christmas Day – giving the team their first two-game winning streak in over a month – the Chicago Bulls fell back to earth on Saturday night at home against the Dallas Mavericks; getting blown out on the United Center floor, 105-83.
Dallas led by as many as 32 points, while shooting 53 percent from the field and 50 percent (13-26) from the three-point line in the game. Making matters worse, the Bulls gave up two four-point plays to Dirk Nowitzki and Jae Crowder, within two minutes of each other in the second quarter, a frame in which Chicago was outscored 31-15.
In fact, the Mavericks were so hot on Saturday night that they shot 69 percent in the third quarter coming out of halftime. Chicago tried to show life in the fourth quarter, opening with a 16-0 run, but the Bulls were already down 30 points when the final stanza began.
Chicago also turned the ball over 18 times – seven of those courtesy of Jimmy Butler – to which Dallas capitalized on by scoring 22 points. All told, it was an ugly game for the home team, which falls right in line with their ugly month.
The Bulls have won just three games in December with two more outings to go. They play the Grizzlies in Memphis on Monday and then travel back home to Chicago where they will host the Toronto Raptors on New Years Eve, a team that beat them by 22 points on the United Center floor back on Dec. 14.
Notables: Joakim Noah scored 20 points and grabbed 10 rebounds, his 11th double-double this season... Jimmy Butler scored 11 points, but was just 2-10 from the field and reaggravated his turf toe injury... Tony Snell scored two points, but was 0-8 from the field in the game... Luol Deng missed his eighth game with his Achilles injury