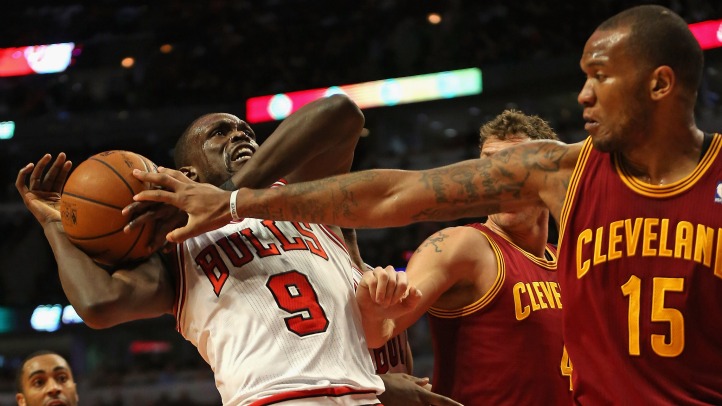 The Chicago Bulls didn't win one of their winnable games on the schedule in what has been a brutal month of February for the team. They fell to the Kyrie Irving-less Cleveland Cavaliers, 101-98, on an ugly day, weather wise, in Chicago, which also seemed to be indicative of the Bulls' play on the court.
The Bulls have now gone 4-8 in the month and have one game remaining on Thursday against the Philadelphia 76ers who are in a free fall of their own right now. After holding firm at the four spot in the Eastern Conference standings, the losses in February have dropped the Bulls all the way to sixth.
The Good
Well, Kirk Hinrich (11 points, 11 assists, six rebounds) was back and played well after missing the last two games tending to his injured elbow. Luol Deng (26 points, seven rebounds, five assists) bounced back after a poor showing against the Thunder on Sunday, and Carlos Boozer (27 points, seven rebounds, five assists) also had a solid offensive outing. The Bulls held slight edges in points in the paint (42-40) and fastbreak points (9-6), and a huge margin in assists (33-18), but that's about as good as it gets for the Bulls against the Cavs.
The Bad
Chicago was outrebounded 39-34 in the game and allowed Cleveland to shoot 49 percent from the field. The Cavs were also a +4 in second-chance points (22-18) in the game and scored 18 points off the Bulls turnovers. Joakim Noah (nine points, nine rebounds) hasn't been playing like himself of late and had a very pedestrian outing against the Cavaliers.
The Ugly
Chicago's bench was outscored 36-19 in the game and the Bulls, still having an issue with turnovers, gave the ball away 15 times Tuesday night. Reserves Nate Robinson (five points) and Marco Belinelli (eight points) combined to shoot just 5-16 from the field. And for what seems to be a recurring theme all season, veteran Rip Hamilton (six points) was once again nowhere to be found on the offensive end.
Follow Outside Shot on Twitter (
@Outside_Shot
) for more Bulls news and information