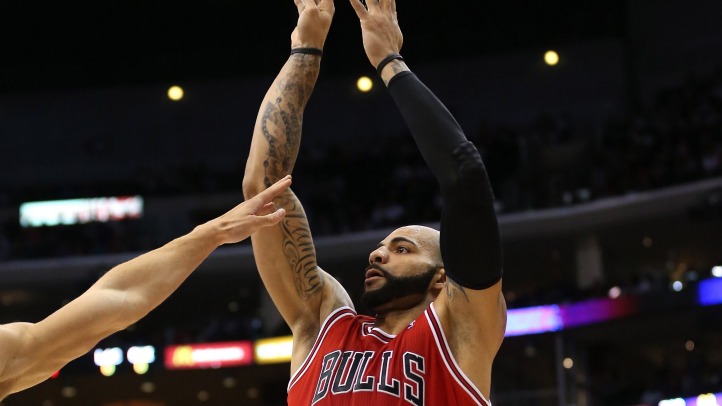 The Chicago Bulls got back on the winning track Wednesday night, defeating the Cleveland Cavaliers 95-85. The Bulls have won three of their last four games, and the victory moved them into first place in the Central Division.
But a win over the Cavs is nothing to write home about, especially considering they're without their best player in Kyrie Irving and rookie shooting guard Dion Waiters. Still, the Bulls will certainly take the "W," especially after coming up short against the Indiana Pacers the night before.
The Good
After struggling against Indiana on Tuesday in his first start of the season, Marco Belinelli (23 points) had a great bounce-back game against Cleveland. All five of the Bulls starters reached double digits in scoring as Luol Deng (22 points, seven rebounds), Carlos Boozer (10 points, 12 rebounds), Joakim Noah (13 points, 15 rebounds) and Kirk Hinrich (11 points, eight assists) all played well. The Bulls defense held the Cavaliers to 37 percent shooting from the field, and they dominated the fast break category, 20-12.
The Bad
Chicago continues to struggle with their three-point shooting as they went 4-15 (27 percent) from beyond the arc on Wednesday night. Another struggle has been in taking care of the ball as the Bulls had 15 turnovers to the Cavs 10 in the game.
The Ugly
The Bulls bench was outscored by the Cavs reserves to the tune of 36-16 and Taj Gibson (2 points, three rebounds) continues to struggle this season. Cleveland also dominated the Bulls in a number of secondary categories like points in the paint (44-32) and second-chance points (22-13). On most nights, against good teams in the NBA, the Bulls would've lost giving up differentials like that.