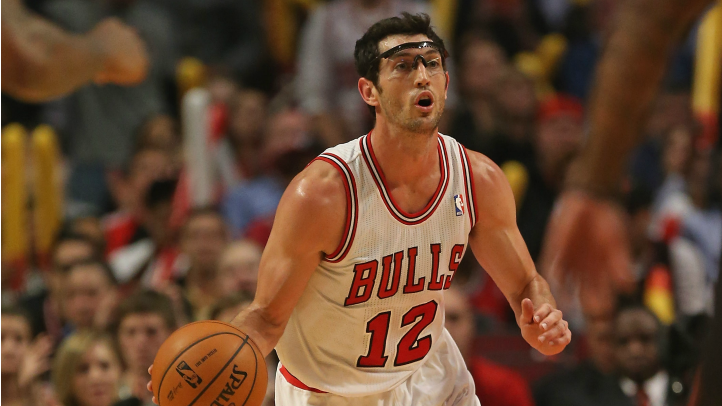 Kirk Hinrich's injured left calf kept him out of Game 5 against the Brooklyn Nets on Monday. The veteran guard didn't practice with the team on Wednesday, but according to NBC Chicago's Peggy Kusinski, Hinrich says if his body will allow it, he will suit up and play in Thursday night's Game 6 at the United Center.
"If I can help the team, I definitely will. Even in limited minutes."
Hinrich has done a great job defensively on Nets guard Deron Williams, and he had his best offensive outing of the postseason in Game 5 when he put up 18 points and dished out 14 assists.
But the Bulls offense looked totally different in Game 6 with Hinrich out of the lineup and Nate Robinson running the show. Tom Thibodeau has always called Kirk Hinrich one of the more important parts of the offense, and always proves prophetic when the Bulls are forced to play without him.
Normal 0 false false false EN-US JA X-NONE /* Style Definitions */ table.MsoNormalTable {mso-style-name:"Table Normal"; mso-tstyle-rowband-size:0; mso-tstyle-colband-size:0; mso-style-noshow:yes; mso-style-priority:99; mso-style-parent:""; mso-padding-alt:0in 5.4pt 0in 5.4pt; mso-para-margin:0in; mso-para-margin-bottom:.0001pt; mso-pagination:widow-orphan; font-size:12.0pt; font-family:Cambria; mso-ascii-font-family:Cambria; mso-ascii-theme-font:minor-latin; mso-hansi-font-family:Cambria; mso-hansi-theme-font:minor-latin;} Follow Outside Shot on Twitter (@Outside_Shot) for more Bulls news and information