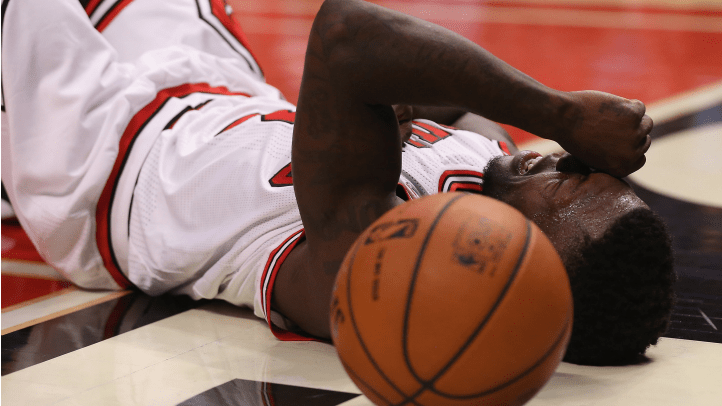 The Chicago Bulls missed a golden opportunity to win their first round series matchup with the Brooklyn Nets on their home court as they fell 95-92 in Game 6 on Thursday night. Now they'll have to travel back to the Barclays Center on Saturday to try and get the job done in Game 7.
However, the valiance Chicago displayed against Brooklyn should be commended. Kirk Hinrich sat with a calf injury and Luol Deng was so sick that he was sent home after being given a spinal tap to make sure he didn't have meningitis. Taj Gibson was battling the same "flu-like" symptoms as was Nate Robinson who was throwing up on the bench during timeouts.
And despite all of that, the Bulls still had an opportunity to close out the Nets. Game 7 will pose an even tougher challenge, but the heart the team displayed in Game 6 should make Bulls fans very proud.
The Good
Chicago got double-doubles from Carlos Boozer (14 points, 13 rebounds) and Joakim Noah (14 points, 15 rebounds) in the game, and also got solid outings from Jimmy Butler (17 points, five rebounds, six assists), Marco Belinelli (22 points, five rebounds, seven assists) and Nate Robinson (18 points). The Bulls were +5 in rebound margin (46-41), +10 in second-chance points (13-3) and scored 10 points on Brooklyn's 10 turnovers in the game. Additionally, even with so many players out and the Nets essentially at full strength, the Bulls still only lost by three points. That's a positive sign and a testament to their toughness and how hard they play as a team.
The Bad
The Bulls were outscored 42-38 in the paint and 16-8 on the fast break. Brooklyn's bench also outscored the Bulls 27-7 in the game. Additionally, both Taj Gibson (three points, three rebounds) and Boozer fouled out of the game late, when the Bulls really could've used their contributions.
The Ugly
The sickness "bug" that's going around the Bulls locker room played a huge part in the Bulls' loss. If guys are fully healthy, they have a great shot at winning the game. Now it's on to Game 7 on the opposing team's home floor. That qualifies as "ugly" all its own.
Normal 0 false false false EN-US JA X-NONE /* Style Definitions */ table.MsoNormalTable {mso-style-name:"Table Normal"; mso-tstyle-rowband-size:0; mso-tstyle-colband-size:0; mso-style-noshow:yes; mso-style-priority:99; mso-style-parent:""; mso-padding-alt:0in 5.4pt 0in 5.4pt; mso-para-margin:0in; mso-para-margin-bottom:.0001pt; mso-pagination:widow-orphan; font-size:12.0pt; font-family:Cambria; mso-ascii-font-family:Cambria; mso-ascii-theme-font:minor-latin; mso-hansi-font-family:Cambria; mso-hansi-theme-font:minor-latin;} Follow Outside Shot on Twitter (@Outside_Shot) for more Bulls news and information