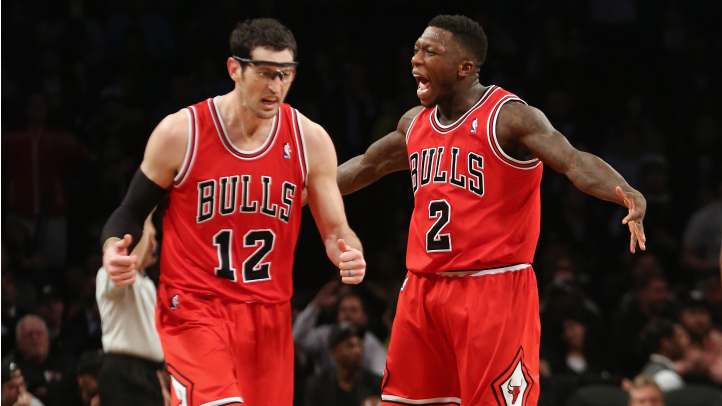 After being blown out of the Barclays Center in Game 1, the Chicago Bulls reasserted themselves offensively and defensively and the result was a win over the Brooklyn Nets in Game 2, 90-82, evening the series at 1-1.
The disappointment of Saturday's loss was still fresh on the players' minds and they each made a conscious effort to get back to their principles and play Bulls basketball. Chicago is now in the drivers seat somewhat as the scene shifts back to the United Center for Game 3 on Thursday night and the Bulls have a great chance to go up 2-1 in the series.
The Good
You can't say enough about Joakim Noah (11 points, 10 rebounds, three assists, two blocks) and the effort he put forth in Game 2. In fact, you can almost credit him for the win as the pain in his foot didn't overshadow the heart he displayed playing hobbled in the game. Luol Deng (15 points, 10 rebounds) also bounced back from a poor Game 1 performance as did Kirk Hinrich (13 points, five assists, two steals). Carlos Boozer (13 points, 12 rebounds) continued his solid play in Game 2, and Nate Robinson (11 points) provided a nice lift off the bench. The Bulls were +5 in rebounds margin (44-39), +12 in points in the paint (42-30) and scored 16 points off the Nets' 12 turnovers. Chicago's defense also forced Brooklyn into shooting 35 percent from the field in the game while they shot 48 percent, a stark contrast from Game 1. The Bulls were also able to slow down Deron Williams (eight points, 10 assists), forcing him into just 1-9 shooting in the game.
The Bad
Both teams shot the ball terribly from the three-point line as the Bulls went 3-12 (25 percent) from distance in the game. Chicago was also average at the free-throw line, shooting 57 percent in the game, which is out of character for them.
The Ugly
Jimmy Butler (five points, four rebounds) shot just 1-4 from the field, although he did a solid job defensively on Joe Johnson (17 points) in the game. And the aforementioned Robinson didn't exactly shoot the ball well going 4-11 from the field.
Normal 0 false false false EN-US JA X-NONE /* Style Definitions */ table.MsoNormalTable {mso-style-name:"Table Normal"; mso-tstyle-rowband-size:0; mso-tstyle-colband-size:0; mso-style-noshow:yes; mso-style-priority:99; mso-style-parent:""; mso-padding-alt:0in 5.4pt 0in 5.4pt; mso-para-margin:0in; mso-para-margin-bottom:.0001pt; mso-pagination:widow-orphan; font-size:12.0pt; font-family:Cambria; mso-ascii-font-family:Cambria; mso-ascii-theme-font:minor-latin; mso-hansi-font-family:Cambria; mso-hansi-theme-font:minor-latin;} Follow Outside Shot on Twitter (@Outside_Shot) for more Bulls news and information