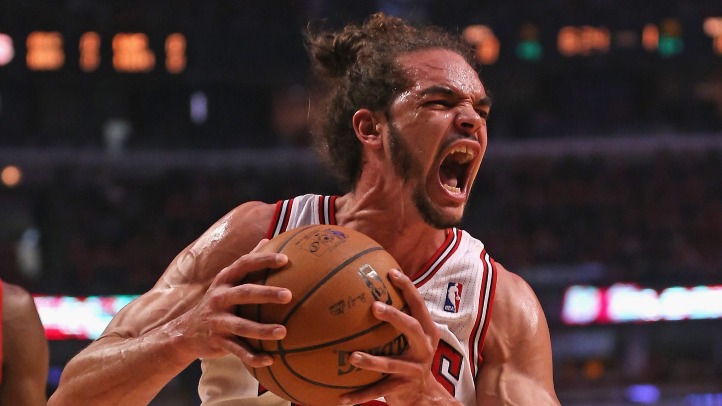 One of the toughest things to do in the NBA is win a closeout game in the playoffs, especially on the road. But that's what the Chicago Bulls are up against Monday night as they head back into the Barclays Center and try to advance to the second round by defeating the Brooklyn Nets.
If you're still tired from Saturday afternoon's triple overtime thriller, imagine how some of the Bulls players must be feeling. Kirk Hinrich played nearly 60 minutes, Luol Deng logged almost 57 minutes, and Carlos Boozer went just over 50 minutes. With only a day off between games, closing the Nets out at home will be a tall order.
The good thing for Chicago is if they can't get it done on Monday night in Game 5, Game 6 will be back at the United Center on Thursday. But that's not the mindset they want to take into the deciding game of the series.
If they can dispatch Brooklyn quickly, the team will have some time to rest up before their biggest test of the season, a second-round date with the Miami Heat who closed out their first-round series with a sweep of the Milwaukee Bucks Sunday afternoon.
Obviously, the big question leading into Game 5 is the health of Joakim Noah who played almost 39 minutes on Saturday despite being on a limit of no more than 24 minutes. His plantar fasciitis continues to be a day-to-day struggle and he continues to push through it for the sake of the team. Additionally, Hinrich, after playing arguably his best game of the year Saturday with 18 points and 14 assists on 7-12 shooting from the field, will most likely be out for Game 5 and longer with a calf injury sustained in Game 4.
If Noah can give the Bulls what he gave them on Saturday, and if Thibodeau can find a way to offset the potential loss of Hinrich in the backcourt, the Bulls have a great shot to advance. It'll also be interesting to see how the Nets adjust to Nate Robinson, who can be credited with single-handedly leading the Bulls to victory in the triple overtime thriller.
Robinson's fourth quarter scoring outburst of 23 points was just one shy of breaking Michael Jordan's team record of 24 points scored in a quarter which has stood for over 13 years. It's reasonable to expect the Nets to key in on Robinson, which means that other players will need to step up if the Bulls are going to win the series.
Normal 0 false false false EN-US JA X-NONE /* Style Definitions */ table.MsoNormalTable {mso-style-name:"Table Normal"; mso-tstyle-rowband-size:0; mso-tstyle-colband-size:0; mso-style-noshow:yes; mso-style-priority:99; mso-style-parent:""; mso-padding-alt:0in 5.4pt 0in 5.4pt; mso-para-margin:0in; mso-para-margin-bottom:.0001pt; mso-pagination:widow-orphan; font-size:12.0pt; font-family:Cambria; mso-ascii-font-family:Cambria; mso-ascii-theme-font:minor-latin; mso-hansi-font-family:Cambria; mso-hansi-theme-font:minor-latin;} Follow Outside Shot on Twitter (@Outside_Shot) for more Bulls news and information