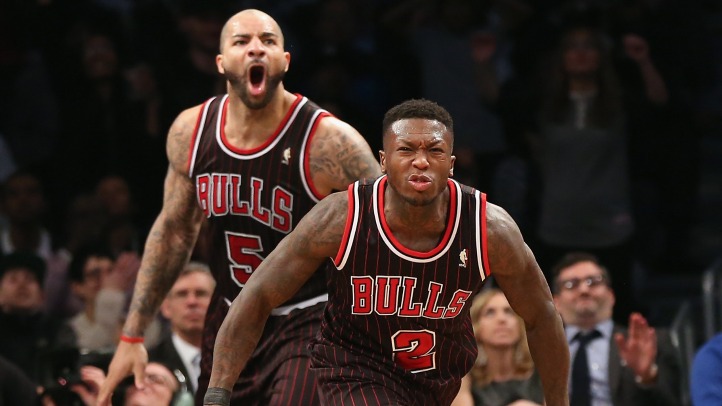 Well, it's official. The Chicago Bulls and the Brooklyn Nets will face off in the first round of the NBA Playoffs, beginning on Saturday. Chicago finished the season in fifth place after defeating the Washington Wizards and the Atlanta Hawks falling to the New York Knicks on Thursday night.
Chicago wanted to avoid seeing the Indiana Pacers or the New York Knicks in the first round and the team has a really good chance to not only compete with Brooklyn, but also beat them and advance to the second round.
The Bulls are finally getting healthy, and although it's very likely we won't see Derrick Rose come back in the playoffs, with Joakim Noah, Taj Gibson and Rip Hamilton on the mend, to take a Tom Thibodeau-ism, the Bulls have more than enough to win the series against the Nets.
Here is the upcoming playoff schedule for Chicago:
Game 1 - Saturday, April 20
Chicago @ Brooklyn, 7:00 p.m.
Comcast SportsNet Chicago/ESPN

Game 2 - Monday, April 22
Chicago @ Brooklyn, 7:00 p.m.
Comcast SportsNet Chicago/TNT

Game 3 - Thursday, April 25
Brooklyn @ Chicago, 7:30 p.m.
Comcast SportsNet Chicago/NBA-TV
Game 4 - Saturday, April 27
Brooklyn@ Chicago, 1:00 p.m.
Comcast SportsNet Chicago/TNT
Game 5* - Monday, April 29
Chicago @ Brooklyn, TBD
Comcast SportsNet Chicago/TBD for the national telecast
Game 6* - Thursday, May 2
Brooklyn @ Chicago, TBD
Comcast SportsNet Chicago/TBD for the national telecast
Game 7* - Saturday, May 4
Chicago @ Brooklyn, TBD
Comcast SportsNet Chicago/TBD for the national telecast
*If necessary
Normal 0 false false false EN-US JA X-NONE /* Style Definitions */ table.MsoNormalTable {mso-style-name:"Table Normal"; mso-tstyle-rowband-size:0; mso-tstyle-colband-size:0; mso-style-noshow:yes; mso-style-priority:99; mso-style-parent:""; mso-padding-alt:0in 5.4pt 0in 5.4pt; mso-para-margin:0in; mso-para-margin-bottom:.0001pt; mso-pagination:widow-orphan; font-size:12.0pt; font-family:Cambria; mso-ascii-font-family:Cambria; mso-ascii-theme-font:minor-latin; mso-hansi-font-family:Cambria; mso-hansi-theme-font:minor-latin;} Follow Outside Shot on Twitter (@Outside_Shot) for more Bulls news and information