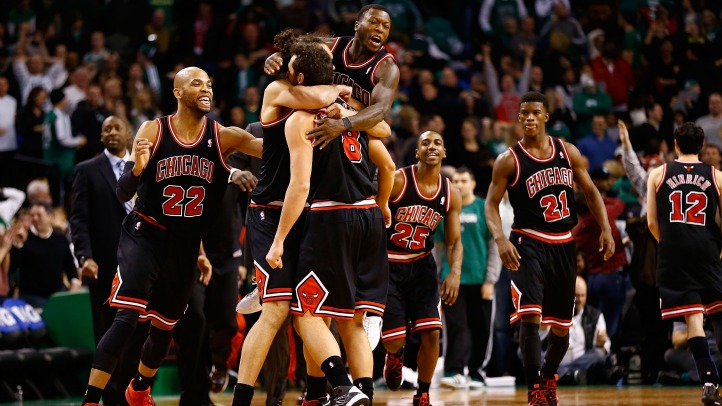 If there was any time to say you're proud to be a Chicago Bulls fan, it was Friday night's 100-99 overtime victory over the Boston Celtics. The Bulls had to fight, scratch, bite, claw, punch and counterpunch their way to the 'W' on the road against a Celtics squad who had been on somewhat of a hot streak coming into the game.
The Bulls have garnered dubious reputation of playing down to lesser competition this season, but comparatively speaking, they've played extremely well against the best teams in the NBA.
Additionally, Friday is the Bulls' lucky day of the week - in the last four Friday games, the Bulls have knocked off the Miami Heat, the New York Knicks (twice), and now the Boston Celtics. Equally impressive is that Chicago pulled out its second consecutive overtime win.
The Bulls are back in Chicago on Saturday night as they play host to the Memphis Grizzlies and go for their first four-game winning streak of the season.
The Good
Marco Belinelli (10 points) hit a difficult, leaning fadeaway shot over Jason Terry to ice the game on what was the second consecutive bad offensive possession for the Bulls late in the extra session. Double-double machine Carlos Boozer (19 points, 20 rebounds) continued to make his case to be an All-Star after recording his 22nd double-double of the season. Joakim Noah (14 points, 13 rebounds) made life tough for Kevin Garnett on Wednesday night and got the best of the veteran big man. Rip Hamilton (20 points) hasn't played well of late, but he was superb against the Celtics on Friday night. Kirk Hinrich (eight points, five assists) has been an invisible man of late, but his pull-up jumper with just seconds remaining in the fourth quarter to send the game into overtime was a big time play in the clutch. Jimmy Butler (13 points) stepped up big time in the absence of Luol Deng (three points) who was injured late in the third quarter. Chicago's bench really stepped up and contributed as they outscored Boston's reserves 36-25. The Bulls also forced the Celtics into committing 12 turnovers and scored 16 points off of Boston's giveaways.
The Bad
The Bulls turned the ball over 21 times against the Celtics, but fortunately Boston could only muster seven points off Chicago's miscues. The Celtics were also dominant in the paint (46-38) and on the fast break (14-2).
The Ugly
The aforementioned Deng suffered an injury to his hamstring on a driving layup in the third quarter and had difficulty walking. He's been one of the most consistent performers this season and it's likely he won't play on Saturday night against the Grizzlies. Taj Gibson (two points, three rebounds) really struggled in his 17 minutes in the game shooting just 1-3 from the field.
Follow "Outside Shot" on Twitter (
@Outside_Shot
) for more Bulls news and information.