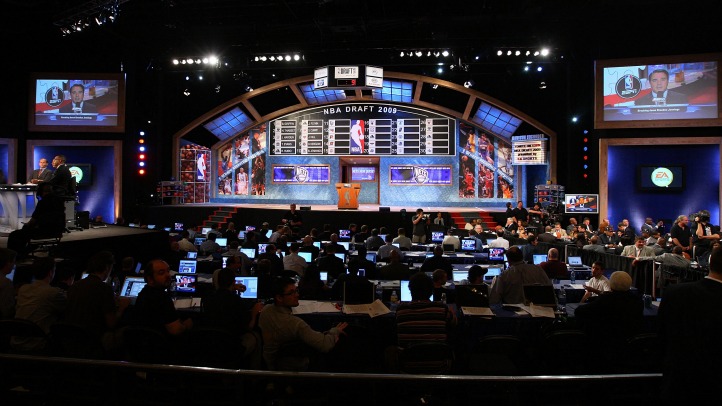 The NBA Draft is a little more than 24 hours away. It's a chance for kids who have been playing basketball to finally realize their dream of playing at the highest level possible.
If you're an NBA team, the draft is akin to rolling the dice. The players can feel secure in the fact that their contracts are guaranteed and whether they play 1,000 minutes in the season or none at all, they're going to get paid regardless.
But as an organization, you run the risk every year of taking a player and not getting a suitable return on your investment.
The Chicago Bulls have the 20th pick in the first round this year and there's been lots of speculation on which direction they'll go in with the pick. Do they take a big man? A shooter? A player with a defensive reputation and mindset? Do they trade the pick? No one really knows what the Bulls will do.
The player they choose could end up being a solid acquisition, or a complete and total bust. So we decided to take a look at the absolute worst Bulls first round draft picks over the years and cross our fingers that we won't have to add 2013 to the list.
1998 Corey Benjamin (No. 28): Desperate for another high-flyer to come in and continue the excitement left behind by the departure/retirement of Michael Jordan, the Bulls took Benjamin out of Oregon State. In three seasons in Chicago he was a non-factor and nine games into his fourth season – with the Atlanta Hawks – he was out of the NBA for good.
2000 Marcus Fizer (No. 4): The bruiser from Iowa State was supposed to be the low-post replacement for Elton Brand whom they traded to the Los Angeles Clippers for the rights to Tyson Chandler. But Fizer played four seasons in Chicago and never came close to contributing what Brand did offensively.
2001 Eddy Curry (No. 4): No way the Bulls could miss at No. 4 two years in a row, right? Wrong. The Thornwood High graduate was supposed to pair with the aforementioned Chandler and create a sort of "twin towers" kind of movement in Chicago. But despite having solid numbers offensively, Curry could never get his weight (and maturity) under control. After four seasons, he was gone and despite a few solid seasons with the New York Knicks, he received more than his fair share of "DNP-Overweight and Immature" on his way out of the league.
2002 Jay Williams (No. 2): The point guard from Duke is the ultimate cautionary tale. Taken right after Yao Ming at No. 1, Williams was billed as the player of the future in Chicago, so much so that the Bulls even gave him Michael Jordan's old locker. But he played one tumultuous rookie season in Chicago before a motorcycle accident destroyed his leg and ended his career before it even got started.
2009 James Johnson (No. 16): Probably one of the strangest picks for the Bulls considering they guys they passed up: Jrue Holliday, Ty Lawson, Jeff Teague and Eric Maynor. Obviously, these guys are all point guards and the Bulls were looking for help on the wing, but Johnson never provided that. He was traded to the Toronto Raptors halfway into his second season in Chicago and his current career path is that of an NBA journeyman.