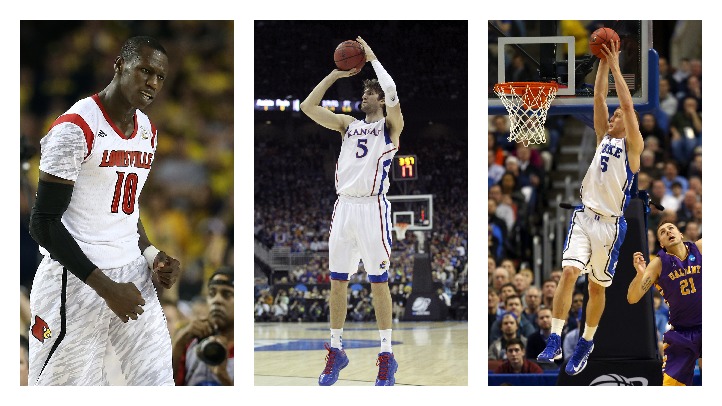 The 2013 NBA Draft is exactly a week away. The Chicago Bulls will pick 20th this year after finishing the regular season with a 47-35 record.
The general consensus on this year's draft class is that it's very weak, with no clear-cut No. 1 pick. Some have picked Kentucky star Nerlens Noel as the top overall pick despite suffering an ACL tear in February. Another name rising quickly up draft boards is Kansas' Ben McLemore, a player many consider has the most upside.
None of this affects the Bulls since they're picking near the end of the first round and they have the 49th pick in the second round. Though there has been lots of speculation on which direction the team will go with their pick, most feel they will try and shore up their front line and draft a big man.
Of course, whomever they pick, don't expect them to make an impact or contribute right away. Tom Thibodeau doesn't really play rookies and likes to give them time to develop within the team framework before giving them an opportunity.
So if a big man is the direction they choose, who will they pick? Here are a few names to consider:
1. Gorgui Dieng – Louisville: We know what you're thinking: "Another Deng on the roster? This could get confusing!" Well, this one is a lot different. First off, he spells his name with an "i," which should end any and all confusion. Secondly, he's not a 6-9 wing player, but a 6-11 center with an array of defensive and rebounding skills, and he's coming off a National Championship victory. Chicago's front office loves guys who have won at the college level and Dieng also fits into their philosophy of bringing character guys into their locker room.
2. Jeff Withey – Kansas: Withey really turned himself into a player while running with Bill Self's Jayhawks squad. The 7-0 center is a remarkable defender and athlete being a former volleyball player. His instincts on the defensive end could make him the pick here even though he will need a lot of physical development.
3. Mason Plumlee – Duke: The 7-0 senior may not be around by the time the Bulls pick, but he could be. Management seems to have a love affair with Duke guys (see: Gene Banks, Elton Brand, Jay Williams, Luol Deng, Chris Duhon, Carlos Boozer) and if Plumlee is available, they could very well take him. He is a pure athlete with a limited offensive skillset, despite his 19.0 ppg scoring average he posted as a senior. He is most likely a project than anything else and his development at the pro level could take some time.
4. Tony Mitchell – North Texas: The 6-9 power forward is very interesting prospect. Unlike Dieng and Withey, he doesn't come from a winning situation at North Texas and that may have led to some slight regression in his development. Beyond that, Mitchell is an excellent athlete with an ability to be impactful on the defensive end. This is a long shot pick, but you never know.