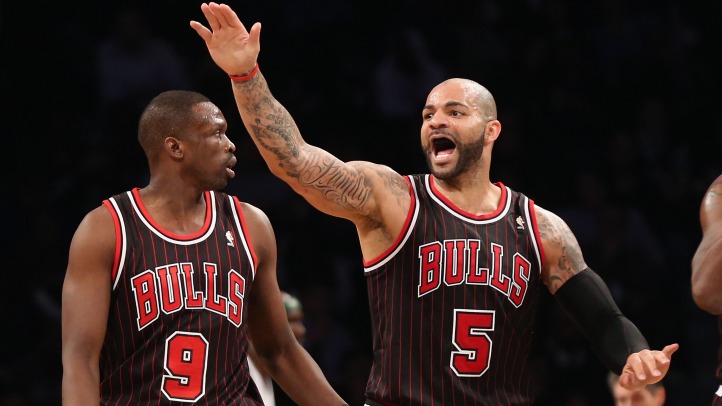 The Chicago Bulls have just two games remaining on the 2012-13 regular season schedule: Monday night at Orlando and Wednesday's season finale at home against the Washington Wizards. It's been a campaign filled with highs, lows and lots of questions surrounding All-Star Derrick Rose, but the end of the season is here and the playoffs are just around the corner.
The Bulls fell to the Miami Heat on Sunday, 105-93, a game where Chicago's trademark physicality with Miami was rendered ineffective at the hands of the referee's tight whistles. Of course, none of the Bulls would admit after the game that's what stifled them, but it was clear that the lobbying for calls by LeBron James after the Bulls snapped their 27-game win streak played somewhat of a role.
"Hey look, sometimes the calls go your way. Sometimes they don't. That's part of the game. It can't affect the way you play. You have to play the same way," Tom Thibodeau told CSN Chicago after Sunday's loss. "The early fouls on some guys took away some of the aggressiveness. We can't do that. We have to keep playing hard. For us, it's about the intensity."
Indeed, the Bulls have seemed to lack that intensity in their last two losses against the Heat – which moved them to the No. 6 seed – and the lowly Toronto Raptors. That may hurt them when the postseason starts as they appear to be headed for a showdown with Central Division rival, the Indiana Pacers. The Pacers locked down the No. 3 seed by clinching the division title.
Chicago is a game back of the Atlanta Hawks in the standings. If the Bulls win their last two games and/or if the Hawks split -- or lose -- their last two games (Bulls own the tiebreaker), Chicago would own the fifth seed outright. However, if Atlanta wins their final two games of the season, they would be fifth and the Bulls would be sixth, not matter what happens.
A series against the Nets would give the Bulls a better chance to advance past the first round as opposed to a having to play the Pacers. But regardless, with their best player missing the entire season, and key players being banged up essentially all year and forcing the team to play shorthanded on many nights, just making the playoffs at all is an accomplishment in itself.
Normal 0 false false false EN-US JA X-NONE /* Style Definitions */ table.MsoNormalTable {mso-style-name:"Table Normal"; mso-tstyle-rowband-size:0; mso-tstyle-colband-size:0; mso-style-noshow:yes; mso-style-priority:99; mso-style-parent:""; mso-padding-alt:0in 5.4pt 0in 5.4pt; mso-para-margin:0in; mso-para-margin-bottom:.0001pt; mso-pagination:widow-orphan; font-size:12.0pt; font-family:Cambria; mso-ascii-font-family:Cambria; mso-ascii-theme-font:minor-latin; mso-hansi-font-family:Cambria; mso-hansi-theme-font:minor-latin;} Follow Outside Shot on Twitter (@Outside_Shot) for more Bulls news and information