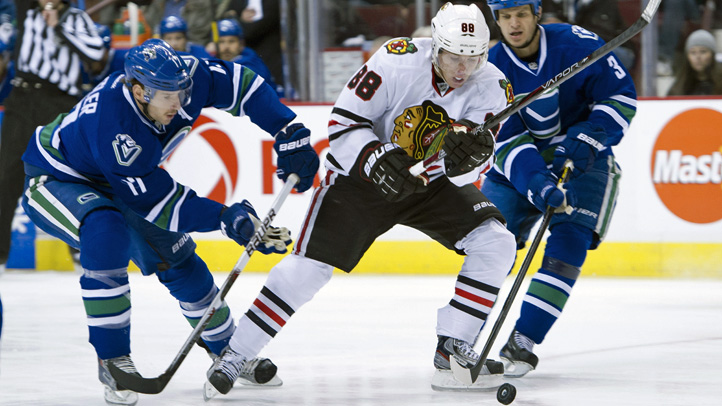 Andrew Brunette and Patrick Kane scored power-play goals midway through the second period, and the Chicago Blackhawks rallied from an early deficit to win their season-high fourth straight game, 5-1 over the Vancouver Canucks on Wednesday night.
The Canucks, who beat the Blackhawks in Chicago 6-2 earlier this month, led 1-0 before Brunette and Kane took advantage of the game's first two power plays. Vancouver scored on five of six advantages in the earlier meeting.
Jonathan Toews scored his fifth goal in four games, Patrick Sharp added a goal 1:49 later in the third period, and Steve Montador also scored to complete the rout.
Jannik Hansen scored for the Canucks against goalie Corey Crawford, who made 28 saves.
Chicago coach Joel Quenneville said before the game that revenge was on his players' minds after the Nov. 6 loss.
The Blackhawks began a six-game road trip by improving to an NHL-best 12-4-3. It is their best start since the 1982-83 season.
The Canucks (9-9-1) had won three of four.
Both clubs had opportunities in a scoreless, sometimes scrambled first period but shooters either missed the net or couldn't control the puck
Hansen scored the first goal with the first shot of the second period. He tapped in Henrik Sedin's centering pass for his fourth goal in five games and fifth of the season.
Hansen also backhanded the puck wide on a third period short-handed chance.
Brunette made it 1-1 after Vancouver's Ryan Kesler was called for tripping.
The Chicago forward had an open net, and goalie Cory Schneider out of position, when Marcus Kruger's pass arrived from the side boards.
Alex Burrows drew the game's second penalty for slashing Duncan Keith on the hand, and the Canucks paid again.
Kane was in a perfect spot to slip a clever setup from Marian Hossa behind Schneider for his third goal in five games. He hit the post on a third-period power play.
Schneider got the start because No. 1 goalie Roberto Luongo was sidelined with an undisclosed upper body injury. Luongo was hit on the mask Sunday during a 4-1 win over the New York Islanders, but finished the game.
Toews finished a three-way passing play with Hossa and Victor Stalberg, and Sharp beat Schneider on a short-side shot. Hossa and Toews also earned assists on Montador's late goal.