Whatever the result, we can at least rejoice in that there shouldn't, repeat: shouldn't, hear any more about the dad's golf trip or have any interviews with some Hawks' father who doesn't want to be on TV and doesn't belong there. That's a win for every Hawks fan.
Oh, and the power play scored. You'll remember this day.
The Hawks were very solid in the 1st and 3rd periods. They hardly gave up a chance. They had a few of their own that they couldn't bury. It was just that 2nd period was weird. And I don't know that it was that bad. It felt like the Lightning scored on the only four chances they had, though they piled up 14 shots in that period. The Hawks scored on four of the many chances they had. But score they did, and the Hawks once again went to an extra frame. And when Martin St. Louis and Vinny Lecavlier get a look a four-on-four, that's a problem.
Other thoughts:
-The Hawks defense is kind of a mess, and as much as we deride Duncan Keith's recent play it's obvious his absence is a gap the Hawks can't fill. While Nick Leddy is much more comfortable attacking when paired with a conservative veteran like Sean O'Donnell, he's still far too easily overpowered in his own zone. Steven Stamkos's second goal was a result of Leddy not bothering to get position on him in the crease. The OT goal resulted of a panicked ring-around the boards that evaded Sami Lepisto and led to the turnover. He was on the ice for two other goals.
Compounding that, Brent Seabrook and Niklas Hjalmarsson just can't get right. Quite simply, they're too slow. They can't skate themselves out of trouble and can get beaten to the outside. And when one screws up, the other doesn't have the feet to cover for him. Hurry back, Duncs.
On the bright side, Sami Lepisto's been quite good since his return to the lineup. Sorta.
-Not helping matters was that the checking line, Dave Bolland's line, was off tonight. That means the big weapons on the other team can run wild. And so they did.
-On the other side, Patrick Kane and Marian Hossa are playing a sport right now I'm not familiar with, but do enjoy watching.
-Oh wait, I think it's time for another story about a dad again.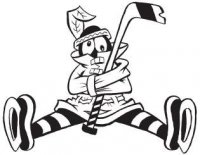 Sam Fels is the proprietor of The Committed Indian, an unofficial program for the Blackhawks. You may have seen him hocking the magazine outside the United Center at Gate 3. The program is also available for purchase online. Fels is a lifelong 'Hawks fan and he also writes for Second City Hockey .