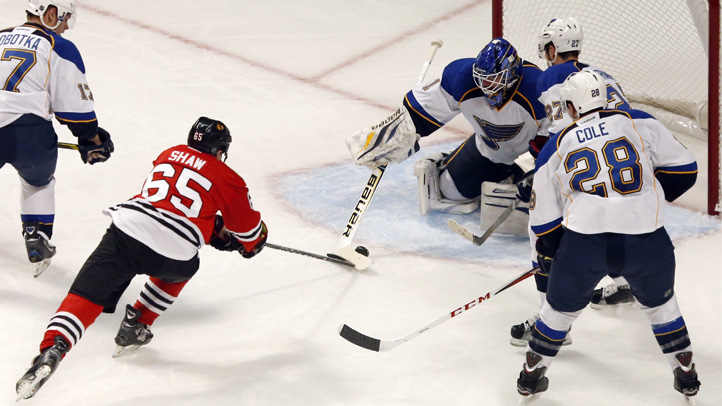 Patrick Kane, Brent Seabrook and Viktor Stalberg scored to back Corey Crawford, and the Chicago Blackhawks hung on to beat the St. Louis Blues 3-2 on Tuesday night.
The Blackhawks looked sharp in their home opener after impressive wins at defending champion Los Angeles and Phoenix, the team that knocked them out of the playoffs in the first round last season.
This time, they took out the reigning Central division champions, with Kane scoring in the first period, Seabrook deflecting a shot into the net with his skate in the second and Stalberg coming through early in the third to make it 3-0.
Crawford made 32 saves and was in line for his first shutout since March 2011 when Andy McDonald beat him with a wrist shot shortly after Stalberg scored. T.J. Oshie pulled the Blues within one when he fired in a rebound of David Peron's shot on a power play with 5:07 left.
Brian Elliott made 24 saves, but the Blues took their first loss after beating Detroit and Nashville.
It was another good showing by the Blackhawks after they scored 11 goals in their first two games and sparked memories of the high-powered team that won the Stanley Cup in 2010.
Playing against the team that allowed the fewest goals in the league last season, they set the tempo in the early going and grabbed a 1-0 lead 7:20 in when Kane cut across the crease on a 3-on-0 rush. He took a feed from Patrick Sharp and beat Elliott with a backhand for his second goal of the season.
The Blues came on late in the period, but Crawford made two great saves seconds apart when he stopped Alexander Steen and sprawled out to block Vladimir Tarasenko on the rebound.
The Blackhawks caught a break early in the second when Steen fired at an empty net with Crawford out of position. The puck deflected off Chicago center Marcus Kruger's stick and fluttered into Keith's chest, preserving the lead for Chicago.
The Blackhawks added to it midway through the period on a power play when Keith fired a low laser from the blue line through a screen. The puck deflected off Seabrook's skate and slipped between Elliott's pads, making it 2-0.
Stalberg beat Elliott glove side just over two minutes into the third, with McDonald spoiling the shutout bid about 21/2 minutes after that.