After the Hawks locked down Patrick Sharp on Wednesday, Hawks fans should rejoice at more than just #10 being here for the forseeable future.

There's more at play here, because the Hawks now are finely poised to be the contender year after year that we'd all assumed they'd be. In fact, they're better poised than just about anyone in the conference, due to who's signed and their youth.
Take a deep breath before you list off who is signed for at least the next three years. Ready? Sure? Ok, here we go: Jonathan Toews, Patrick Kane, Patrick Sharp, Marian Hossa, Dave Bolland, Michael Frolik, Duncan Keith, Brent Seabrook, Niklas Hjalmarsson, Steve Montador, and Corey Crawford.

That doesn't include Jeremy Morin, whose contract hasn't started yet, and Nick Leddy, who has two years left. They're all signed for $56 million next year.

That would be well below whatever the cap may be (more on that in a bit). That's a top line, a still-premier scoring winger, perhaps the best checking center in the game, the best defensive pairing (arguably) in the game, three more defenders who would easily fit on most if not all teams' second pairing, and a promising young goalie.

That's a contending team all by itself. It doesn't take too much surrounding it to make it a Cup favorite year after year. Those are the choices to be made. It's an exciting window.
Looking around, Detroit has the cap space but not the youth, and not enough of that youth coming. The Blues have a bevy of young talent, but can't approach the cap number and none of the leadership. Nashville doesn't have the cash. Vancouver is locked up against the cap and getting older (and not any smarter). Los Angeles is close, but they still have to lock in Drew Doughty and don't really have too many wingers to go with Mike Richards and Anze Kopitar. The Sharks core is already old and has proven to be missing a key component between the legs when things really count.
The dark passenger here that no one wants to talk about is the next collective bargaining agreement. This one ends in September 2012. Most likely the 2012-2013 season will be played under these rules, unless a different one is agreed upon. Again, that's unlikely, but it could happen.

So the Hawks should be alright for that season. It's when the rules change, and how much they do, when things could get icky. If the rules change to count actual salary against the cap, not average over contract-length, that could complicate things. I different formula for calculating the cap could be a problem. Things I haven't thought of could be a problem.
But we'll worry about that later. Right now, I'm going to soak in this window being totally open, and a wonderful summer breeze blowing through.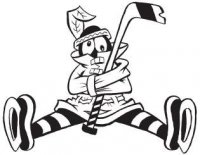 Sam Fels is the proprietor of The Committed Indian, an unofficial program for the Blackhawks. You may have seen him hocking the magazine outside the United Center at Gate 3. The program is also available for purchase online. Fels is a lifelong 'Hawks fan and he also writes for Second City Hockey .