You can probably write this one in yourself:
Simply Throwing Rocks
Jonathan Toews - It'll take a far more talented writer than me to give anyone an idea of how good Toews has been a piece of writing. It's simply breathtaking. Now leading the league in goals and second in points, Toews has simply looked like he's skating out there by himself. There's nothing the opponents can do.

Perhaps the most enjoyable night of the season was Tazer demonstrating to the droolers and meatheads of St. Louis what a real captain looks like. While their beloved David Backes ran everywhere he wasn't supposed to be looking for hits and fights, Toews put his head down and went about beating the Blues about the face.

He single-handedly brought the Hawks back from three down against possibly the hardest team in the league. He's basically Aragorn against the Urukai at this point. No one can touch him. It's the best display of hockey from a Blackhawks since...well, I don't have an answer for that, because I can't remember a Hawk dominating everywhere so clearly. Tony Amonte had some amazing goal-scoring years, but that's all he did. Jeremy Roenick had some help and wasn't the defensive player that Toews is. Denis Savard didn't have the defensive game or even close to it. It's not worth analyzing though, it's worth enjoying.
Oh, but statistically he's the worst penalty killer team. So trade him.
Over The Line, Mark It Zero!
Corey Crawford - The clock has started. There's coming a point where the Hawks can wait no more for Crawford to find his game and seek another solution. Is it at the end of this month? End of January? Middle of February? I'm not sure, but I know there's a date set within the organization. The league has caught up to Crawford. It knows his glove hand is dropping, and that he doesn't move side to side very well. Can Crow adjust back? Can he tame the new aggressive method and remain in his crease and using his size? The Hawks had better find out quick, or they better have another plan.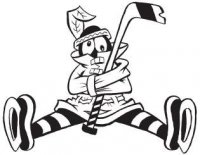 Sam Fels is the proprietor of The Committed Indian, an unofficial program for the Blackhawks. You may have seen him hocking the magazine outside the United Center at Gate 3. The program is also available for purchase online. Fels is a lifelong 'Hawks fan and he also writes for Second City Hockey .