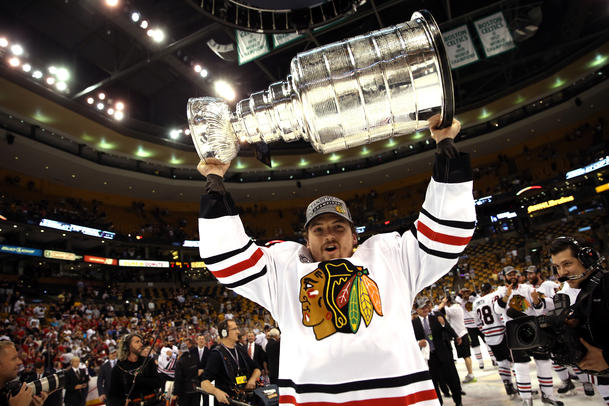 Throughout the month of July, Madhouse Enforcer will be taking a look at various members of the 2013 Stanley Cup champion Chicago Blackhawks. What did they do right? What did they do wrong? What can they improve upon next season? We'll answer all those questions and more in the lead-up to Blackhawks Convention, which starts July 26th.
This edition will focus on defenseman Sheldon Brookbank.
The Good:
Brookbank was widely panned as a defenseman when he came into the Hawks' lineup in relief of the suspended Duncan Keith during the Western Conference Finals, but his performances, especially early in the season, were acceptable for a third pairing defenseman.
During that stretch, he platooned with the newly re-signed Michal Rozsival, and while he only saw limited action, there were flashes of above-average play. His game against the Detroit Red Wings January 27th was a good example of that, where he mixed solid defense with some offensive punch en route to putting three shots on goal and helping the Hawks to an overtime victory.
Obviously those times were less common than Hawks fans and the team's coaching staff wanted, which led to Brookbank's benching in the later parts of the season, but he did show he's capable of being serviceable over stretches with that play.
The Bad:
Brookbank only had one goal and no assists in 26 regular season games this year, but that is far from the only metric that shows how much he struggled for consistency.
He had the lowest Corsi On-Ice among any Blackhawks defenseman this season, racking up a 1.34 in limited action. He also was the only Hawks defenseman with a PDO (a metric that shows puck possession time) of below 1000, which is the break even point. He also took more penalties than any other defenseman on the roster, and played against weaker competition than his counterparts by and large.
He did all of this despite playing less time on average than any other defenseman on the roster, and a look at those numbers reveals why the team lost faith in him as the season wore on.
Best Game of 2013:
A March 10th loss to the Edmonton Oilers that is best remembered for the Hawks' valiant but ultimately unsuccessful comeback attempt was the high water mark for Broobank this season.
In that game, he not only scored his only goal of the season, a short-handed tally that brought the Hawks to within a 5-3 deficit, but he also had four shots on goal and dished out a hit in the contest.
Outlook for 2013-14:
With Rozsival and Nick Leddy both being re-signed over the off-season, Brookbank is likely going to find himself with the same kind of workload that he did during the 2013 campaign. He will likely spell Rozsival at times and will be the primary fill-in in the event of an injury or suspension, but his regular playing days are definitely over as far as the Hawks are concerned.
One area that he needs to work on is his overall discipline on the defensive side of the puck. Too often Brookbank will either lose track of his man on the rush, leading to quality scoring chances and goals, but he will also get late breaks against quicker opponents, especially in road games, and those are both killers for a defenseman to give up.
Obviously speed is not something that can be taught, but taking smarter angles and having a higher level of on-ice awareness can help compensate, and he is going to need to hone those skills as he tries to fend off youngsters like Dylan Olsen and Adam Clendening, who are both gunning for his job.