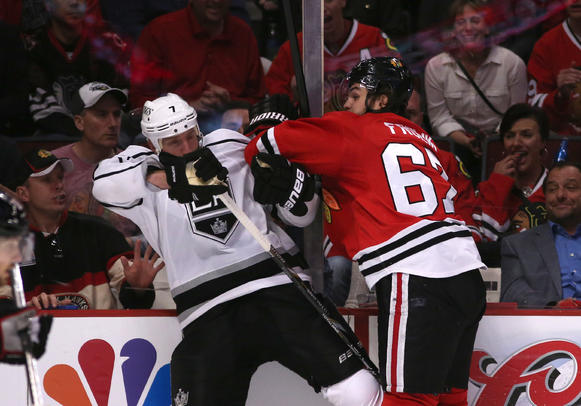 Throughout the month of July, Madhouse Enforcer will be taking a look at various members of the 2013 Stanley Cup champion Chicago Blackhawks. What did they do right? What did they do wrong? What can they improve upon next season? We'll answer all those questions and more in the lead-up to Blackhawks Convention, which starts July 26th.
Today's featured player is departed ace penalty killer Michael Frolik.
The Good:
Frolik's trade by the Hawks set off a bit of a storm because of how incredibly well he worked on the penalty killing unit with center Marcus Kruger. The Hawks' PK unit was among the best of the league, working at an 87.2% success rate, third best in the league during the regular season.
It was Frolik who best embodied what head coach Joel Quenneville was looking for out of that group, aggressively attacking the puck carrier and jumping passing lanes, while the defensemen on the ice stayed in their respective zones and took care of any stray attackers that got in between the circles.
That ability to buy into his role speaks volumes for Frolik as a player. He came to Chicago with the expectation that he was going to be a top-six forward, but those expectations never materialized. Instead of dwelling on it however, he stepped up when offered playing time on the PK side of things, and his play speaks for how well the experiment worked.
The Bad:
The only downside to Frolik's ability on the penalty killing unit was how little offensive production the Hawks got from him at even strength. He only managed three goals and ten assists for the Hawks in 2013, despite firing 98 shots on goal.
That lack of conversion likely means that he was taking a great deal of low percentage shots from the wings rather than taking higher percentage looks in closer to the net.
That is both a product of his linemates (he was largely stuck playing with guys like Brandon Bollig and Daniel Carcillo on the fourth line) and of his responsibilities as a fourth line defender, but he still didn't produce as much as he could have in that area.
Best Game of 2013:
Frolik got a shot on the top line for the Blackhawks when Quenneville decided to shake things up in late March, and he responded with a fantastic game against the Los Angeles Kings on March 25th.
In that contest, he ended up with four shots on goal and two goals to his credit, in addition to an assist. He played 16:40 of ice time in that game, which was his regular season high, and really asserted himself in all areas of the game that night.
It was a great glimpse of what Frolik can provide to a team as a top-six forward, and could be a preview of what is to come with his new team, the Winnipeg Jets.
How Will the Blackhawks Replace Him?
That is a question that is going to be tough to answer. There aren't any ready-made guys in the minors waiting for a chance to come up and kill penalties, but the Hawks do have some gritty guys with a bit of offensive touch who could step into the role.
One that comes to mind immediately is Andrew Shaw. He has shown that he can both score (he did have the game-winning tally in Game 1 of the Stanley Cup Final) and play a physical game, as the plentiful scars on his face can attest. He might be able to respond to Quenneville's call for fast and aggressive penalty killers, so he's worth a look in training camp.
Another guy who could potentially get some time, depending on his health and stamina, is Michal Handzus. He played some big minutes for the Hawks on the penalty killing unit during the playoffs, but his more restrained style may not necessarily fit in with the fast-paced strategy the Hawks employed on that side of the puck.
Finally, a couple of random forwards could step up in an attempt to get more playing time. Brandon Saad's speed has to be intriguing to Quenneville and company when considering penalty killers, and guys like Jimmy Hayes and Ben Smith, should they stick with the big club out of training camp, could also be considered candidates for the gig.