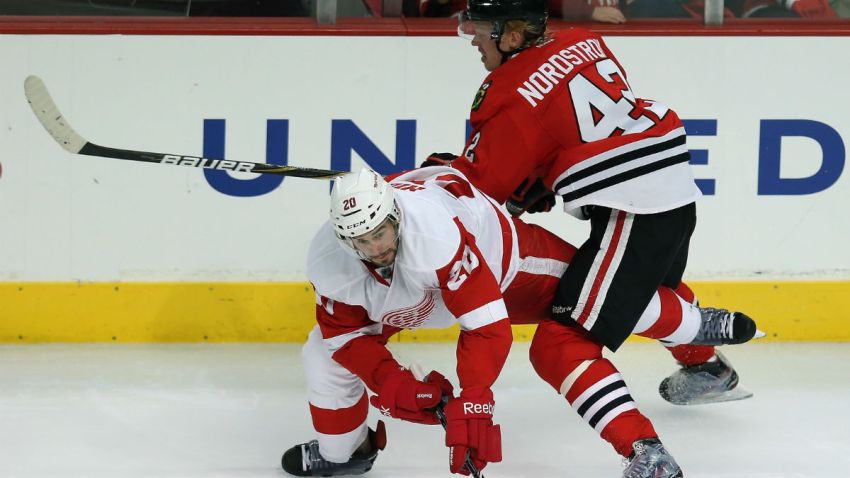 With training camp a little over three weeks away, we are continuing our look at the player evaluations for the 2013-14 Chicago Blackhawks. What did they do right? What did they do wrong? What can they improve upon for next season?
We continue those evaluations today by examining the brief season of forward Joakim Nordstrom, and focus on what he could bring to the table for the Blackhawks next year.
The Good:
The Blackhawks are always on the lookout for defensive forwards, and Nordstrom surprised some folks when he made the team's roster out of training camp. He didn't stick for long, but in limited action he was mainly deployed in a fourth line role, and he made an impression on the coaching staff in the process.
The team also called him up for a bit of playoff action as well, and even though he didn't register a point in the seven games that he played, he was a far more dependable option than Brandon Bollig.
In the AHL, Nordstrom showed some offensive skill, scoring 17 goals and dishing out 16 assists in 58 games with the Rockford IceHogs.
The Bad:
That offensive punch didn't really show in the NHL, as Nordstrom struggled to balance his roles as a defender and as an attacker on the fourth line. Granted, not many guys are able to strike that balance, but it is surely something that the 2010 third-round draft pick will need to do if he is going to get more meaningful minutes in the future for the Hawks.
Best Game of 2013-14:
On April 6 against the Blues Nordstrom had six shots on goal and an assist, but we'll go with his October 11 performance against the New York Islanders instead. In that game, Nordstrom notched his first career goal and registered three hits as the Blackhawks knocked off the Isles by a score of 3-2.
Outlook for 2014-15:
There are going to be a lot of youngsters competing for ice time in the NHL for the Blackhawks, and Nordstrom will be right in that mix. Teuvo Teravainen and Jeremy Morin will serve as his primary competition, but neither player is the prototypical third or fourth liner that Nordstrom is. He has some defensive skill, and could blossom into a Marcus Kruger-type player if he buys into that role enough.
The real question is whether or not Joel Quenneville is going to trust Nordstrom over a guy like Kris Versteeg. Either player could work well with Ben Smith and Marcus Kruger on the third line, but there is a backlog of players at the moment, so Nordstrom could end up being the odd man out when training camp concludes.