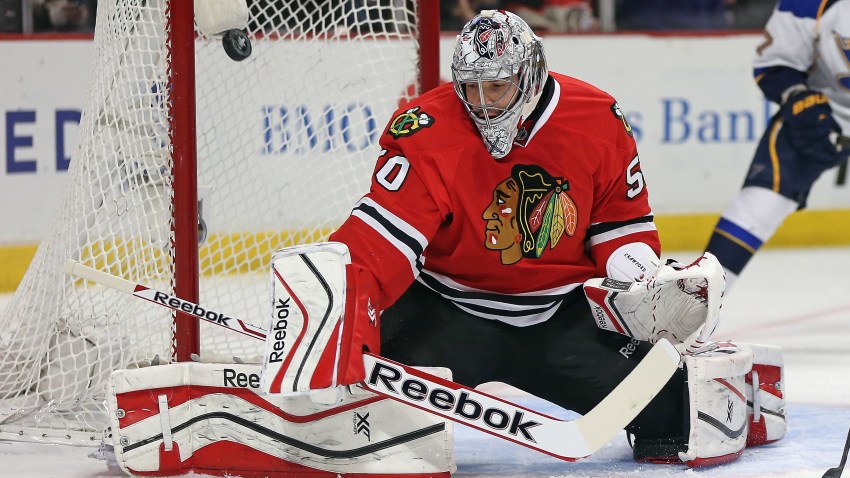 Throughout the month of July, Madhouse Enforcer will be evaluating the performances of the 2013-14 Chicago Blackhawks. What did they do right? What did they do wrong? What can they improve upon for next season?
We'll continue our evaluations today by switching our focus to the goal crease, as Corey Crawford goes under the microscope.
The Good:
It was going to be tough for Crawford to top what he did last season for the Blackhawks, and even though he didn't quite get to the same level (goals against average of below two and a save percentage above 92%), he had some really solid numbers. In 56 starts for the Hawks, Crawford had a 32-16-10 record with a 2.26 GAA and a .917 save percentage, and he had two shutouts during the regular season.
More so than numbers though, Crawford once again was forced to play some of his best hockey when the Blackhawks' defense was at its least disciplined. Much like he did during the 2011 playoffs against the Vancouver Canucks, Crawford was exposed to a slew of scoring opportunities in the team's series against the Minnesota Wild in May, and he made the most of the chance in helping the Hawks to within one overtime goal of reaching the Stanley Cup Final for the second straight season.
The Bad:
The problem that Crawford seemed to run into time and again during the season was really bad inconsistency. As opposed to last season, when his struggles would last no more than a period or so, this season he seemed to lose his groove and stay lost for a while, giving up soft goals and making mental lapses that a goaltender of his veteran status shouldn't be making.
Crawford was definitely at his worst in the conference final against the Los Angeles Kings, and while he wasn't helped out by a defense that was still struggling to clear out traffic in front of the net, he didn't exactly do them any favors either. His play was a big part of the reason why the Hawks had advanced to that point, but it was also Crawford that deserves some of the blame for the team failing to advance past the eventual Stanley Cup champions.
Best Game of the Season:
Crawford was positively stellar in Game 6 of the second round series against the Wild, but his best performance of the playoffs came in the series prior, in Game 3 against the St. Louis Blues. With his team down two games to none, Crawford pitched a shutout for the ages as he withstood a furious St. Louis barrage and stopped all 34 shots he saw in a 2-0 victory.
Outduelling Blues' trade deadline acquisition Ryan Miller seemed to do wonders for Crawford's confidence, and he ended up racking up wins in five consecutive games after that contest as the Hawks got on a roll.
Outlook for 2014-15:
Even with speculation still swirling that the team could add a veteran goaltender to the mix to back-up Crawford in case the team decides to have Antti Raanta spend some time getting action down in Rockford, no one should be under any illusion that there are questions about whose net it is in Chicago. Crawford is going to be the guy for a long time to come, and even though Joel Quenneville will switch to the hot hand if need be, a six-year contract provides a measure of security.
Could the temptation be there for Crawford to feel pressure to earn his $6 million salary? Only time will tell, but judging by his performances in the bulk of his career, he should be able to withstand the scrutiny.