Ah, Hossa-Watch. How I haven't missed this.
Marian Hossa was on the ice for the morning skate out in the Arizona Tuesday, but whether he makes the game will be to-the-wire decison. But this time, unlike Saturday, he looks more likely to play than not. If he does go, he'll be back on Patrick Kane's wing with Dan Carcillo. If he doesn't go, it sounds like Rusty Olesz will be in that spot.

Viktor Stalberg got one game in the spotlight and is now on the fourth line with Marcus Kruger and Jamal Mayers.
Oh, right, that's the news from Monday. Ben Smith was sent down to Rockford. This means that Smith is healthy, but it also means that the Hawks have been impressed with Marcus Kruger on the 4th line and Ben Smith didn't have a place.

Surprising if you'd told me that before the season, but not based on what we've seen this season. Kruger has been impressive in his limited role.
Corey Crawford gets the start in net.
As for the opponent, the Coyotes have also played four games. They're also 2-1-1. Their main star is also off to a hot start, as Shane Doan has seven points in four games. They've poured in nine goals in the last two games.
Much like the last two years, the Coyotes are kind of going to do it with mirrors. They'll be good, we just don't know why. They have some good forwards, but no star other than maybe Doan.

Keith Yandle is a great d-man and Oliver Ekman Larsson is developing, but past that there isn't much.

The real challenge for them this year is that they're backstopped by the extremely iffy duo of Mike Smith and Jason Labarbera, instead of the stellar goaltending they got from Ilya Bryzgalov.
But that doesn't mean they won't be extremely well-coached by Dave Tippett, which has been the main weapon these two years.

So we know they'll forecheck hard, and make the Hawks breakouts as hard as possible.

The Hawks lost three of four to the Yotes last year, and they split the games the year before that. They won't get the option of checking out of a portion of the game, as they have the last two. Hopefully the first road trip of the season snaps them to attention.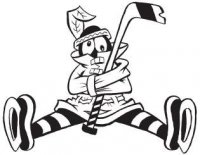 Sam Fels is the proprietor of The Committed Indian, an unofficial program for the Blackhawks. You may have seen him hocking the magazine outside the United Center at Gate 3. The program is also available for purchase online. Fels is a lifelong 'Hawks fan and he also writes for Second City Hockey .