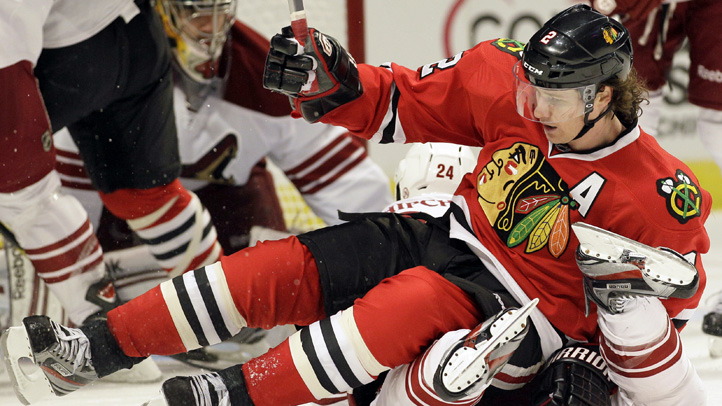 Mike Smith made 24 saves, Ray Whitney had a goal and two assists, and the Phoenix Coyotes beat the Chicago Blackhawks 4-1 on Tuesday night.
Daymond Langkow, Shane Doan and Radim Vrbata also scored as the Coyotes improved to 7-3-1 on the road.
When Whitney scored Phoenix's second goal in the final period, Chicago coach Joel Quenneville pulled goalie Corey Crawford, who gave up four scores on 21 shots.
Smith missed his second straight shutout when Patrick Sharp scored with 42.9 seconds left in the game. Smith blanked Dallas 3-0 on Saturday night.
Langkow took a crossing pass from Whitney and his backhander hit Crawford's glove before trickling into the net late in the opening period.
On a break, Doan got a dropoff pass from Mikkel Boedker and scored from the right circle midway through the second. Doan's rising shot hit the post and went past Crawford.
Less than two minutes into the final period, Vrbata scored from the right side of the net for his 11th goal in the last 14 games and No. 12 on the season. He took a shovel pass from Whitney, who'd gained possession of the puck behind the net when the Blackhawks couldn't control it.
About four minutes later, Martin Hanzal controlled the puck behind the net and passed to a wide-open Whitney for another score.
The sluggish Blackhawks were playing their first home game since Nov. 13 after splitting a six-game western trip. The Blackhawks are now 7-2-2 on home ice.
Chicago came out strong with four shot attempts in the first three minutes, but had only four more over the next period and a half.