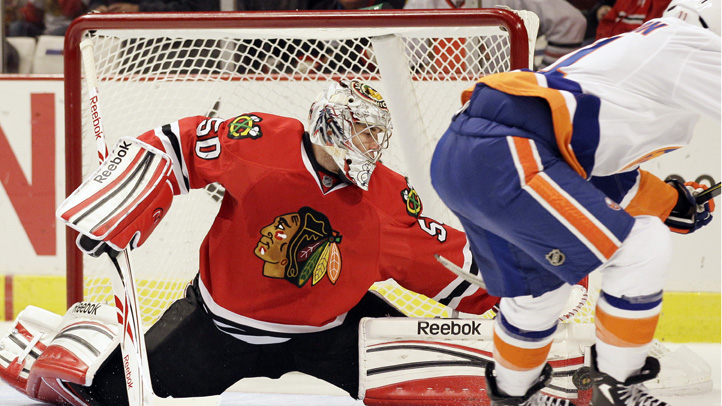 It's rare I get to make a Zeppelin reference here. This will be a good day.
After a couple days off, the Hawks head to the Nassau County Coliseum and its backed-up toilets for a return date with the Islanders.

When these type of games roll around you usually worry about the Hawks taking the Isles lightly, but that shouldn't be a problem after last week's dance, where New York completely turned over the Hawks in the 3rd period, forcing the game to a shootout -- which the Hawks ultimately won.
While some bemoaned that effort and used it as evidence the team needed major changes (funny how those howls died down the next night after a stomping of the Blues in St. Louis), it may not have been as bad as it first looked.

The Hawks really should have entered the 3rd period with a 3-0 lead, but Corey Crawford had let in two terrible goals which gave the Isles hope and a sniff, and the Hawks certainly weren't ready for the charge.

You'd think because of that, they'll have the Hawks full attention Thursday night.
And New York hasn't cooled off since. They beat Dallas in Dallas the next night after being here, and then just whipped the Lightning at home on Tuesday 5-1. Matt Moulsen had four goals against the Stars, and added another one against Tampa, so clearly he's the man in form.
But the Islanders have some injury concerns. Rookie Nino Nieddereiter is out with a concussion -- he netted the equalizer in Chicago. Michael Grabner is 50-50 with a groin problem, and they're missing two d-men in Andrew MacDonald and Mark Eaton,
As for the Hawks, we already know that Ray Emery will start, with a chance to string some starts together if he plays well. It's clear that Coach Joel Quenneville is out of patience with Crawford, and while that doesn't mean he's lost his job as the #1, Q clearly feels that the Hawks can't wait for him to work out his problems in games that will cost the Hawks points. If Emery plays well, look for him to get the start against San Jose on Sunday as well.
No other injury concerns. If the Hawks actually pay attention and get off to a good start, this is still the Islanders no matter what kind of roll they might be on.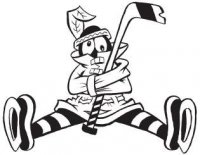 Sam Fels is the proprietor of The Committed Indian, an unofficial program for the Blackhawks. You may have seen him hocking the magazine outside the United Center at Gate 3. The program is also available for purchase online. Fels is a lifelong 'Hawks fan and he also writes for Second City Hockey .