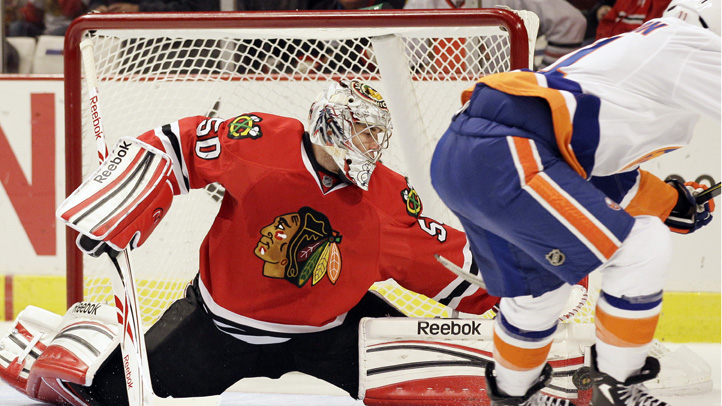 There are usually three outcomes when you play a bottom-feeding team and none of them feel good.

Either you win convincingly, which was the script all along, or you lose and everyone goes into a tizzy. Only slightly better than the latter but not the former is huffing and puffing your way to a "win" against that team.

The Hawks chose that route Friday night.
You're going to hear a lot of panicking, anger, confusion, and outright looniness about the Hawks defense after this one, and there's barely an argument against it. For 40 minutes, the Hawks locked out an Islanders squad short on anything as you would expect. But the Isles were in it because of two soft goals let in by Corey Crawford, who's tending the net these days like he's hearing voices.

When a team like the Isles gets a sniff of putting one over on a contender like the Hawks, there's always the chance they'll come out and chase it.
It's not that everything that happened in the third was down to Long Island, because most of it wasn't. Most of it had to do with a Hawks defense running around like a chicken neck spouting blood like Old Faithful: Rebounds weren't cleared. Checks weren't made. Puck battles were lost. Clearing attempts were held in, and passes didn't connect.

You name it, the Hawks did it.

Oh, and throw a horrific line change in there that led to the equalizer. That's the defensive boob royal flush right there.
It's clear that these two issues are feeding into each other. The defense is skittish because it doesn't trust its goalie to make the stop it needs, and the goalie is lacking confidence because he doesn't think he's getting any protection. It's a pretty viscious hockey cycle.
But most if not all the answers are internal. Keith and Seabrook don't have to raise their game that much. Hjalmarsson does, but he's capable, or at least there was a time when I thought he was. Leddy will learn and get better as he's still not yet completed a full season of games at this level. The third pairing is above where it was at this point last year. And no one thinks Corey Crawford is this bad, at least not yet.
But they are issues to be solved. Luckily, there's enough top end talent to keep the Hawks afloat while they sort themselves out. But that well isn't going to last forever.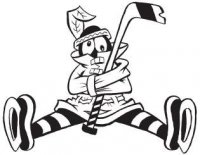 Sam Fels is the proprietor of The Committed Indian, an unofficial program for the Blackhawks. You may have seen him hocking the magazine outside the United Center at Gate 3. The program is also available for purchase online. Fels is a lifelong 'Hawks fan and he also writes for Second City Hockey .