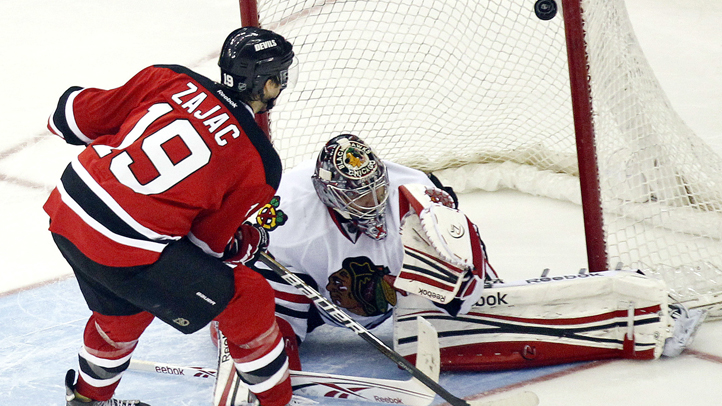 Travis Zajac and Patrik Elias scored in a shootout and Martin Brodeur made 37 saves and stopped four of five shooters to give the New Jersey Devils to a 2-1 victory over the Chicago Blackhawks on Tuesday night.
Brodeur made a sprawling stop on Andrew Shaw to end the contest and give New Jersey a four-point lead on Ottawa in the race for sixth place in the Eastern Conference.
Zajac, who returned to the lineup Sunday after sitting out with an Achilles' tendon injury, snapped a shot over Corey Crawford for the winner in the shootout.
Patrick Sharp beat Brodeur between the legs on Chicago's third try to send it to extra rounds. Defenseman Brent Seabrook tied the game for Chicago midway through the third period. The loss was the second in a row for Chicago after winning five straight.
Crawford finished with 21 saves and the Devils were limited to 11 shots over the final 45 minutes.
Seabrook tied the game at 8:34 of the third period after the Devils had trouble getting the puck out of their zone. Dave Bolland retrieved the puck above the left circle with a little help from defenseman Niklas Hjalmarsson and sent the cross-ice pass that Seabrook ripped past a seemingly screened Brodeur, who was looking for his 119th career shutout.
Crawford kept the score tied less than a minute late with a save on Zach Parise after New Jersey won a faceoff.
Brodeur nearly gave the game away with less than six minutes to play when his clearing pass up the middle of the ice was intercepted by Marcus Kruger. However, the goaltender gloved his one-on-one snap shot.
Sykora, who was demoted to the Devils' fourth line on Monday, gave the Devils the lead with 4:18 left in the opening period with his 18th goal of the season. It came with nine seconds left on a hooking penalty against Seabrook and resulted when Chicago got caught on a bad line change.
Defenseman Mark Fayne found Adam Henrique at the Blackhawks' blue line and the rookie sent a pass toward the left side of the crease that a wide-open Sykora deflected past Crawford.
Chicago took 23 shots at Brodeur in the opening two periods and the 39-year-old turned them all aside. His best save came early in the second period with a pad stop on a close-in rebound attempt by Viktor Stalberg.
For the second straight game, the Blackhawks' power play was miserable. They had three chances in the first two periods, including a 68-second two-man advantage in the second period, and failed to register a shot.
In a 6-1 loss to Nashville on Sunday, Chicago had four extra-man chances and also failed to get a shot on goal, which shows how much it misses suspended defenseman Duncan Keith and captain Jonathan Toews (concussion).
Copyright AP - Associated Press