I guess we'll just continue and make it a day-long look at what seems to be affecting the Hawks these days, even though they're tied atop the division and conference.
Full disclaimer before I delve fully into Dave Bolland: Bolls was the first of the "Golden Generation" that I locked onto. Duncan Keith and Brent Seabrook were already with the big team, but in those first two years out of the lockout when the Hawks were awful, I used to regularly look up Bolland's numbers in junior with the London Knights.

It was the first time I remember keeping sharp eyes on a Hawks prospect. His stats down there were just silly good. I kept locked on him when he moved to Norfolk and then Rockford, before debuting with the Hawks in 2007.
So no one roots harder for Fabulous Weapon. I have the No. 36 jersey to prove it.
But Bolland has provided Hawks fans with something of a paradox since his breakout full rookie campaign in 2008-2009. At the time, he skated with Martin Havlat, and there were furious debates as to which was making the other's game flourish.

The 2009-2010 season started abysmally for Bolland, but it soon became apparent why. Anyone watching him that fall was easily able to deduce that he wasn't physically sound, and it was only a couple weeks before back surgery was announced.

He missed half that year, but a lot of fans wondered if he'd ever be the same. After all, back surgery is not something any of us look upon an a minor procedure, and we're not trying to play hockey.
But Bolland came back, and after an adjustment period became that playoff monster that most fans still love.

Last season, Bolland once again started abysmally. Was it the back? Was it the come down? Did Bolland just not care? He had one goal in the first 25 games. The debates rages as to the reason. But then Bolls caught fire around the holidays, and was genuinely missed when the concussion came in March.

It was clear how much when he returned for the playoffs and sparked that comeback.
And here we are again with Bolland. He's taking a lot of practices off, so he must be hurt. That shot off his foot in St. Louis obviously did some damage. But his canyon started before that injury, with only one goal and two points in the 10 games before it.

Was it an injury then? Slump? Disinterested play?
We can't ever answer these. When Bolland's game is in the red, it's based on a lot of snarl and emotion, and maybe he can't get those in the middle of November. Maybe he's just a playoff performer. Maybe he's suffering with some odd-fitting linemates, or ones who are struggling with their games as well, like Frolik and Bickell.
But the Hawks depend on Bolland so much. He's the secondary scoring. On nights like Tuesday, when the top two lines are so bottled up, the Hawks count on Bolland to break through. He hasn't. His defensive game has fallen off too. He's being pinned in his own zone.
Is it the injury? If it is, then maybe it would be best to sit him until fully 100 percent. Because this half-built Death Star isn't really working? Is it something else? Then that's on him. Either way, the Hawks need an answer from him.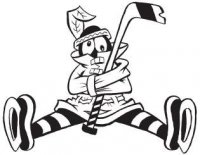 Sam Fels is the proprietor of The Committed Indian, an unofficial program for the Blackhawks. You may have seen him hocking the magazine outside the United Center at Gate 3. The program is also available for purchase online. Fels is a lifelong 'Hawks fan and he also writes for Second City Hockey .