Not that I'm one for speculation, but the Blackhawks had better start planning life without Dan Carcillo, and that's probably for the rest of the season.
Even if they get the best possible news on his injury, and judging by needing all the King's men to carry him off the ice, even that would be weeks, Carcillo is going to face a lengthy suspension for his reckless hit on Tom Gilbert Monday night.

It was dangerous, stupid, and he had time to figure something else out. Based on being a repeat offender, Carcillo is probably looking at a minimum of five games, and it's more likely around eight or more.
But the more scary prospect is that knee that got turned into a slinky after that hit. The smart man thinks that's an ACL tear, and that's the season. And probably Carcillo's Hawk career.
What are the Hawks losing? It's hard to tell. Carcillo is essentiall a fourth-line energy player who was moonlighting on the top forward lines. That was good and bad. It provided those lines with some grit, at times, but it also caused Carcillo to fall in love with his offense and not provide physicality and spice, which is what he was brought here for.

Carcillo's skills aren't bad for a fourth liner, but that's all they are.
The other problem is that Carcillo brought some energy to the dressing room, which most people think was lacking it last season. That's now going to be out of the room. You don't want a quieter room. Energy starts there.
Where do the Hawks go? Well, there isn't much at Rockford to replicate what Carcillo does. Jeremy Morin is physical, but didn't look good here in his brief stint and still hasn't found his scoring touch that he displayed at times last season. Brandon Pirri is a center and not that type. There's a couple journeymen down there, but nothing that solves a lot.
Add another thing to the shopping list, with another defenseman and a forward. The Hawks will need some heart and jam to replace what Carcillo was supposed to do, and right now they don't have it elsewhere.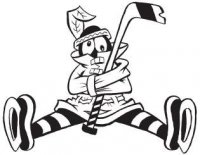 Sam Fels is the proprietor of The Committed Indian, an unofficial program for the Blackhawks. You may have seen him hocking the magazine outside the United Center at Gate 3. The program is also available for purchase online. Fels is a lifelong 'Hawks fan and he also writes for Second City Hockey .