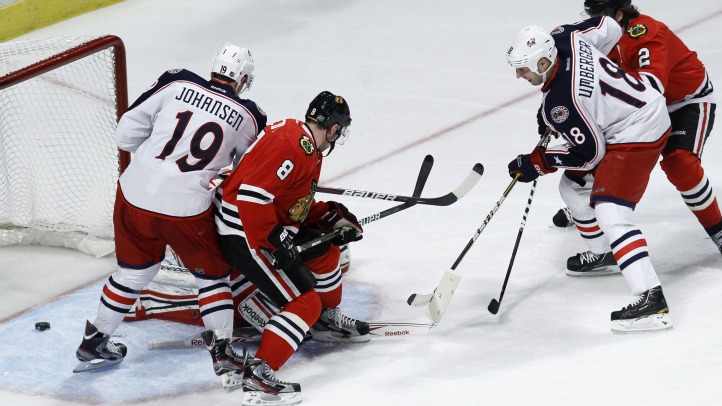 Viktor Stalberg scored three goals for his first NHL hat trick and the Chicago Blackhawks beat Columbus 5-2 on Tuesday night to end a season-high four-game losing streak and spoil the debut of interim Blue Jackets coach Todd Richards.
Dave Bolland and rookie Ben Smith also scored for Chicago.
R.J. Umberger and Antoine Vermette had goals for Columbus, which lost its second straight and is 2-9-1 in its last 12.
Richards replaced Scott Arniel, who was fired on Monday. The Blue Jackets are 11-26-5, the worst record in the NHL and their worst start since entering the league in 2000-01.
Corey Crawford made 32 saves for Chicago and Stalberg snapped a six-game streak without a point.
Smith was recalled from Rockford of the AHL on Monday to replace injured star forward Patrick Sharp, who broke his left wrist in a 3-2 loss to Detroit on Sunday shortly after scoring his 20th goal.
Blue Jackets goalie Curtis Sanford stopped 20 shots.
Injury-depleted Columbus played without center Jeff Carter and defenseman James Wisniewski, both key offseason acquisitions.
Carter, sidelined for 10 games earlier this season, separated his shoulder in a 7-4 loss at Anaheim on Sunday. Wisniewski missed his fifth game with an injured left ankle and is expected to miss several more weeks.
Neither team sustained offensive pressure in the scoreless first, although Crawford and Sanford each made a couple of close-in saves.
Marian Hossa set up Bolland's short-handed goal at 4:12 of the second to open the scoring.
Hossa stole the puck from Columbus defenseman Nikita Nikitin at center ice, then drove down the right wing boards. He dished to Bolland in the slot, who beat Sanford with a stickhandling move and a shot that clanked in off the right post.
Umberger tied it at 1 on a rebound from the edge of the crease at 7:54 after Crawford stopped David Savard's shot from the point.
Stalberg made it 2-1 with 4:31 left in the second. After getting open in the slot, he took Patrick Kane's feed from behind the net and beat Sanford with a low shot.
Stalberg's second goal, scored during a delayed penalty call at 6:32 of the third, made it 3-1. He flipped a rebound over Sanford's shoulder after Sanford had blocked Brent Seabrook's drive from the blue line.
Smith extended it to 4-1 just 27 seconds later when he drove down the left wing against Columbus defenseman Marc Methot and backhanded a rising shot over Sanford's shoulder.
Vermette cut it to 4-2 at 8:32 following a scramble in front of the Chicago net. He slid in a shot just beyond Crawford's outstretched right pad.
Stalberg completed the scoring on an empty-net goal with 1:40 left to finish his hat trick.
<a href="http://
News breaks at inconvenient times. Take NBCChicago.com with you on your iPhone app and be in the know whereever you go. Visit the app store and download it today!

">Download our iPhone App. News breaks at inconvenient times. Take NBCChicago.com with you on your iPhone app and be in the know where ever you go. Visit the app store and download it today!
Copyright AP - Associated Press