The news out of the morning skate in the Steel City (which is kind of an anachronism now, as Pittsburgh doesn't produce as much steel as the technology center it's become, but whatever. Techno City doesn't really roll off the tongue) is that Brent Seabrook was out there practicing.

This isn't a surprise after he traveled there with the team. But it was a surprise after Seabs went head first into the boards on Sunday and missed the rest of the game.

That didn't look like it was just precautionary.
If Seabrook has any type of head injury, the Hawks are taking a huge risk by sending him out there again so soon. So is Seabrook if he's not being honest with the team's medical staff.

Something about this doesn't past the smell test. Remember, it was Sidney Crosby taking the ice a couple days after his first big hit to the head that resulted in him missing almost a year, because in that second game he took another hit which worsened the effects of the first one.
This is Seabrook's third blow to the head in less than three years. There was the shameless attack on him by James Wisniewski two years ago in Anaheim. Last year's playoffs saw Raffi Torres's calvary charge at him behind the net. Both times, Seabrook missed only a game or two. Both times, he probably should have missed more.
The Hawks medical staff's track record isn't gleaming, but it's gotten better. The last time they dealt with a head injury was Dave Bolland, and he missed a lot of time. So maybe this one is on Seabrook, because concussions are dealt with only by what the player tells you. The staff can only administer the tests and observe, but rely on hearing what the player is feeling.
Have players jaked their baseline tests that are administered before the season so that they can easily match those levels when they're dinged in the head? Sure have. Has Seabrook? I don't know the answer to that, I'd like to think not. But once again, Seabs is out there right after taking a shot to his dome, and I can't shake the feeling that something terrible is going to happen because of it.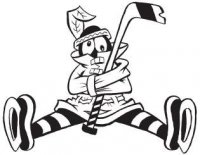 Sam Fels is the proprietor of The Committed Indian, an unofficial program for the Blackhawks. You may have seen him hocking the magazine outside the United Center at Gate 3. The program is also available for purchase online. Fels is a lifelong 'Hawks fan and he also writes for Second City Hockey .