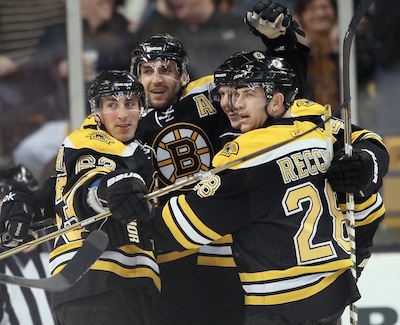 After playing a game better reserved for late May on Monday night, having your best players well over 20 minutes, and playing at a pace that would kill most small mammals, the two things you don't want to have to do is play the next night. That's even more true when the opponent is a team that's big, physical, and bottles things up better than almost everyone.
So it's a good thing that's exactly what the Hawks have to do Tuesday.
For the second consecutive night, the Hawks enter the lair of a division leader, this time the Northeast leading Boston Bruins on Causeway St. Luckily, the Hawks have been pretty good this year at this type of turnaround, going 11-3-2 in the second of back-to-backs.

But this is a pretty stiff challenge.

The B's contain a bunch of large, hulking, drooling forwards who kind of live to crash into people in different colors than they are, and the Hawks don't do all that well with that. The main one is Milan Lucic, who's a god around The Hub.

In his first three years Lucic wasn't a gifted scorer. He was more of a total straight-jacket case who crashed and created space for his teammates when he wasn't breaking people's faces. But all that's changed this year, as he's banged in 30 goals and is a complete tumor in the crease. But he's not the only one.
There's Nathan Horton, another big forward who's broken 20 goals, and the seemingly ageless Mark Recchi who seemingly has been pouring in 20 goals a year since England and France were marrying off each others' princes and princesses (though he only has 13 this year). What's more is that the B's are extremely strong down the middle, as they have two marvelous two-way centers in Patrice Bergeron and David Krejci. But if Toews got the better of Zetterberg Monday night, neither Bergeron or Krejci are in that class.
On defense, there's Kilimanjaro costume Zdeno Chara, who's still one of the best around. The Bruins collected Tomas Kaberle from Toronto at the deadline, and he helps the power play immensely. But he's still a question in his own zone, for as big as he is he doesn't always play to his size. The rest of this crew in non-descript, though can be nasty.
But the real problem is when you get through all that, there's former and about-to-be-second-time-Vezina-winner Tim Thomas. And I can't tell you that there's a tried and true system to beat him, because he's basically a Cirque de Soleil act in net. There's no more entertaining goalie to watch than Thomas, who faces the right way maybe 15 percent of the time. But he just stops the puck, all the time.
This is a tough one. The Bruins are just going to get the puck deep and pound the Hawks defense as much as they can. Moving the puck out of the zone quickly will be paramount. But they shut down the middle of the ice and the neutral zone. There's always at least three Bruins back at all times. The Hawks are just going to outwork the Bruins, which isn't always their calling card.
Strap it in.