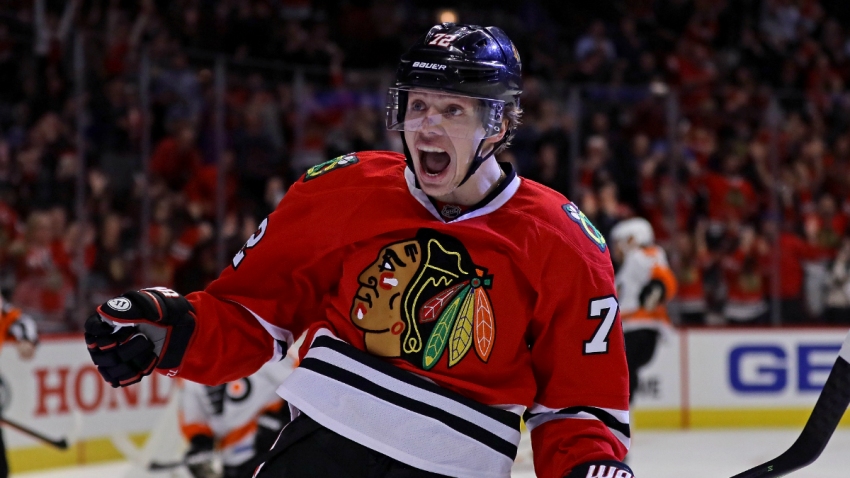 Chicago Blackhawks winger Artemi Panarin is quickly establishing himself as one of the rising stars in the NHL, and his performances over the past week have earned him some high accolades on the national level.
With three goals and seven assists for the Blackhawks in the last week, Panarin was named the NHL's First Star of the Week on Monday morning. The forward almost single-handedly helped the Blackhawks to a five game winning streak thanks to his offensive explosion, including a pair of victories over the St. Louis Blues and San Jose Sharks over the weekend.
The surge has put Panarin at 34 points so far on the season, tying him with Sidney Crosby and Evgeni Malkin for third place in the NHL in that category.
New York Rangers goaltender Henrik Lundqvist won Second Star honors after posting a 3-0-0 record and a 0.98 goals against average last week, and Minnesota Wild forward Eric Staal took town Third Star honors thanks to a four-goal effort over the last seven days.
For Panarin, his offensive surge comes at a time when many fans are beginning to dial into what his performance could mean for the value of his contract at the end of the season. Panarin is in line to get a huge boost in pay when the season comes to an end, and the Blackhawks are watching the dollar signs ring up as he continues to score in bunches.
If he finishes in the top 10 in the NHL in scoring, Panarin can make up to $2.575 million in performance bonuses, so there's a huge financial incentive for him to keep up the pace.