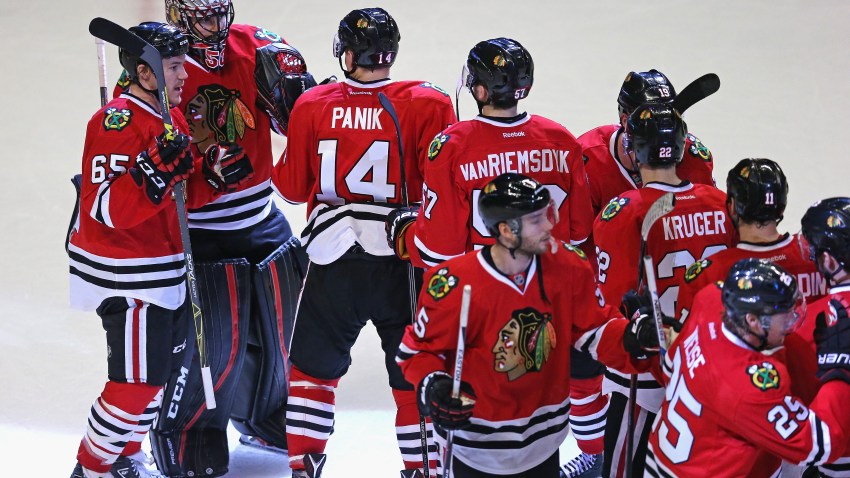 The Chicago Blackhawks will get their training camp underway later this month, and on Thursday the team announced the names of the players that will take part in the process of constructing their 2016-17 roster.
Along with the familiar faces like Brent Seabrook and Duncan Keith, and the Hawks also will have several new faces on the ice as they prepare for the new year.
Free agent acquisitions Brian Campbell and Jordin Tootoo are both listed on the team's preliminary roster for training camp, and youngsters like Vincent Hinostroza, Nick Schmaltz, and Tyler Motte will be looking to nab a roster spot during practices.
The World Cup of Hockey will cause numerous veterans to be absent from camp. Patrick Kane and Jonathan Toews will both miss a large chunk of camp because of the tournament, as will players like Artem Anisimov, Artemi Panarin, Niklas Hjalmarsson, and Corey Crawford.
Practices will begin on Sept. 23, with the team's annual Training Camp Festival taking place at the United Center on Sept. 24.
Here is the full Blackhawks' training camp roster:
(WC) = World Cup participant
Forwards (37): Spencer Abbott, Artem Anisimov (WC), Tyler Barnes, Kyle Baun, Radovan Bondra, Sam Carrick, Bryn Chyzyk, John Dahlstrom, Alex DeBrincat, Andrew Desjardins, Chris DeSousa, Jake Dowell, Alexandre Fortin, Ryan Hartman, Vincent Hinostroza, Marian Hossa (WC), Luke Johnson, Patrick Kane (WC), Tanner Kero, Graham Knott, Marcus Kruger (WC), Pierre-Cedric Labrie, Jeremy Langlois, Martin Lundberg, Brandon Mashinter, Mark McNeill, Trevor Mingoia, Evan Mosey, Tyler Motte, Nathan Noell, Artemi Panarin (WC), Richard Panik, Roy Radke, Dennis Rasmussen, Nick Schmaltz, Jonathan Toews (WC), Jordin Tootoo
Defensemen (18): Brian Campbell, Jonathan Carlsson, Carl Dahlstrom, Gustav Forsling, Dillon Fournier, Erik Gustafsson, Niklas Hjalmarsson (WC), Duncan Keith, Michal Kempny (WC), Nick Mattson, Robin Norell, Ville Pokka (WC), Michal Rozsival, Cameron Schilling, Brent Seabrook, Viktor Svedberg, Nolan Valleau, Trevor van Riemsdyk
Goaltenders (6): Mac Carruth, Corey Crawford (WC), Scott Darling, Jake Hildebrand, Lars Johansson, Eric Levine