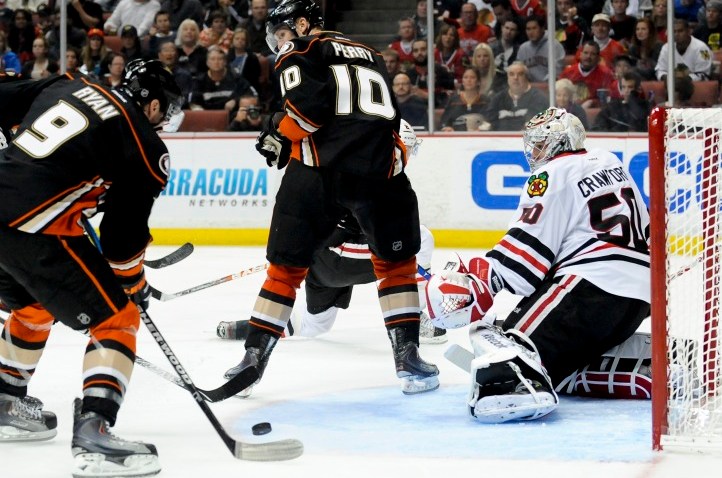 Not one for those with the high blood pressure, was it?
There shouldn't be marker games in November against a team that is plummeting toward Earth like a tank dropped out of a plane with no parachute (just watched A-Team, sorry). That would be a game you look back at the end of the season and say, "That was when it came together" or "That was a springboard." But then sometimes an NHL season doesn't fit into a conventional package.
The Hawks showed some grit, heart, and most of all they never panicked even when the tide looked to be heading against them in the first five minutes. They didn't look to the heavens and wonder if there was a higher power keeping them at bay in the 2nd when Jonas Hiller looked to be pulling his usual rabbit out of a hat routine against the Hawks. They simply put their head down, continued to dominate the game and looked assured that everything would turn their way. It did, and at the very least the Hawks got a heartening victory out of it.
What to take from it:
The Good: The Hawks have a captain who on some nights will just decide that the Hawks are going to win, and there's very little an opponent can do about it - especially one as limited as Anaheim. Jonathan Toews was simply a natural disaster in the 3rd period, playing a part in all fo the four goals that the Hawks collected. Sharp may get the headlines for his hat trick, but it was Captain Marvel who was leading the cart. There were other performances of note, such as Duncan Keith returning to form or Marcus Kruger playing a fearless game. But it was Toews dragging them across the finish line.
The Bad: Corey Crawford. It didn't have to be this hard, even if the Ducks came out flying to start the game as we knew they would. The first three goals were either a direct or indirect result of abhorrent rebound control from Crow. Crawford's angles are off too, and he's having trouble in traffic. Whether it's his new aggressiveness or just a slump, it's gone on for a month now. He's entitled to a slump as he adjusts his game, but the Hawks need to see this upswing in the next month, or there are going to be some questions that don't come with very pleasant or easy answers.
Won't mean a thing if the Hawks can't double it up against a much tougher and spikey L.A. Kings squad tomorrow night on Figuerora and 12th in downtown Los Angeles. But at least disaster was averted.