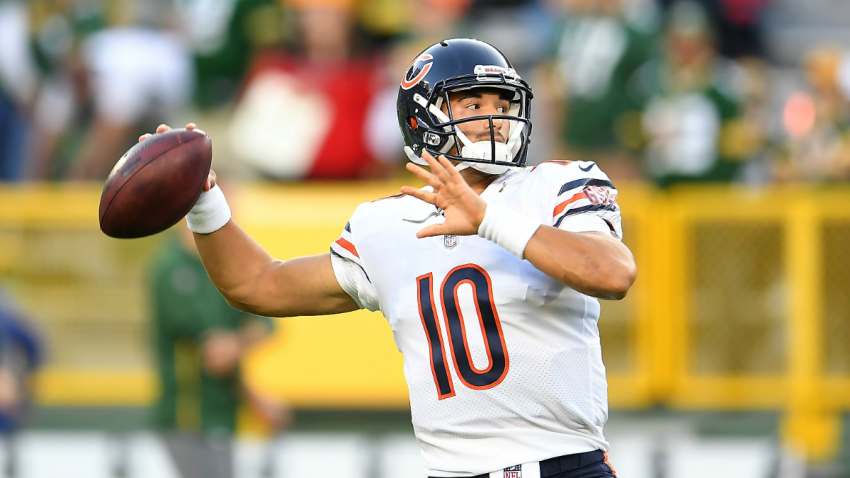 The Chicago Bears' offense was strong in the opening minutes against the Green Bay Packers in Week 1, but they began to lose their effectiveness as the contest moved along, and ultimately they managed just six points in the second half of the game.
Now, the Bears will be looking to avoid a repeat performance as they welcome the Seattle Seahawks to Soldier Field, and that will require the team to do several things differently than they did in their first game.
For starters, the team will need to get Jordan Howard and Tarik Cohen active in both the pass and run games, something that they struggled with in Week 1. Howard actually had more receptions than Cohen in the game, and also outrushed his backfield counterpart.
Cohen is a versatile weapon that can catch the ball and run with it if he gets into space, and with the Seahawks missing several key players on defense, he should be more of a weapon this time around.
In terms of the broader passing game, the Bears only hit Trey Burton for one reception on six targets, and that certainly isn't enough. The Bears need players like Burton and Allen Robinson to stretch the field a bit, and Mitchell Trubisky needs to get active moving the ball down the field with his arm a lot more than what he managed against Green Bay.
In that game, Trubisky seemed to be content to run the ball more often than not, and his so-called "happy-feet" likely cost the Bears at several times in the game.
On the Seahawks' side of things, the absence of Doug Baldwin is definitely going to hurt their offense, but so will their lack of a defined number one rusher. Rashaad Penny and Chris Carson combined for 59 yards rushing a week ago against Denver, and they'll have to do a lot better than that against the Bears if they want to find success.
The key for the Bears will be to contain Russell Wilson in the pocket, but even if he's forced to use his arm, he has shown some strong ability in that area already this season. He averaged nine yards per completion against Denver, throwing for 298 yards and three touchdowns in the game, but he also threw two interceptions and took six sacks, so he's going to need to make quicker decisions with the ball against a tough Bears' pass rush.
In terms of receiving threats, the Seahawks will turn to a familiar face to Bears fans, as Brandon Marshall will likely play a big role in the team's offense in Baldwins' absence. Marshall led the team in targets last week, and Will Dissly and Penny were each targeted five times in the passing game.
Wilson did a nice job of spacing out his targets in Week 1, and if he can do that again this time around, it could pose an interesting threat to a Bears team that was ravaged by Aaron Rodgers in Week 1.